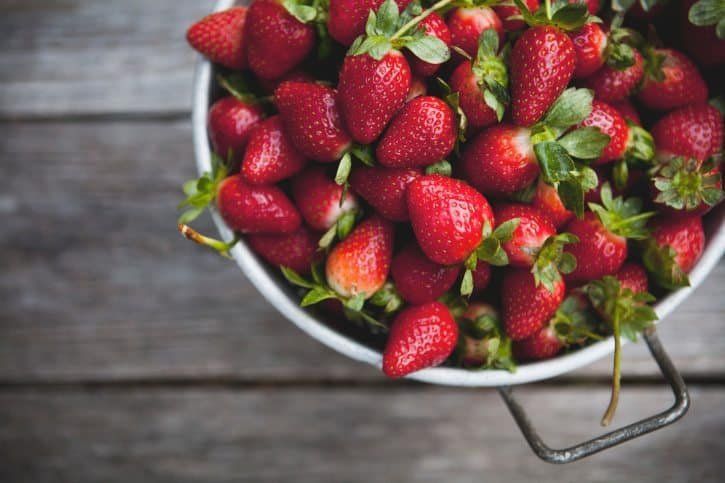 Strawberries are the essence of romance. So this Valentine's day why not romance your partner with a bouquet of these delicious and healthy treats.
Strawberries make a healthy Valentine's Day dessert. Strawberries contain a range of nutrients like vitamin C, vitamin K, folic acid, potassium, riboflavin, and magnesium. They are very low in calories and have properties that promote heart health. Strawberries are also an anti-cancer and an anti-inflammatory fruit.
A Fruity Bouquet!
Getting creative with your strawberry presentation is key for a romantic gift. With the right instructions you can turn your strawberries into a fruity bouquet like this:
Want to make your own strawberry roses? All you need is a knife, wooden skewers, and a vase for the arrangement. Follow the pictures shown above or take a look at this helpful video.
A Chocolate Covered Fruity Bouquet!
Do you prefer having a little chocolate with your strawberries? You're not alone. Chocolate covered strawberries are really popular around Valentine's Day. And with the right steps you can create yummy chocolate strawberry roses like these:
Chocolate is a sweet superfood that could benefit many diets. Chocolate, especially dark chocolate, is full of healthy nutrients like antioxidants, protein, and iron. Studies have found that chocolate can lower stress hormone levels. It's also a natural painkiller that creates a euphoria effect in your body, which boosts your mood. Dark chocolate can also boost your heart health and improve blood flow.
Would like to add a healthy dose of chocolate to your Valentine's Day dessert? Consider the yummy, Mindful recipe listed below.
Ingredients:
1 1/2 cup chocolate chips (preferably white chocolate, but semi-sweet chocolate will also work)
1 tbsp. vegetable oil
Red food coloring
Medium-sized strawberries with hull attached (the number of strawberries you would like to use for your bouquet is up to you)
Wooden skewers
A container or vase
A plastic sandwich bag
Directions:
Melt chocolate with oil in a bowl set in hot water. Stir until chocolate has melted. Wash strawberries and dry well. Gently grasp hull of berry and dip so that 2/3 of strawberry is covered with chocolate. Let it drain. Place on foil covered baking sheet, hull end up. Store in refrigerator for an hour. Add drops of red food coloring to the left over chocolate. Put the chocolate in the plastic sandwich bag and make a small cut in a bottom corner. Take the strawberries out of the fridge and use the sandwich bag as a pastry bag to make the swirling rose design.