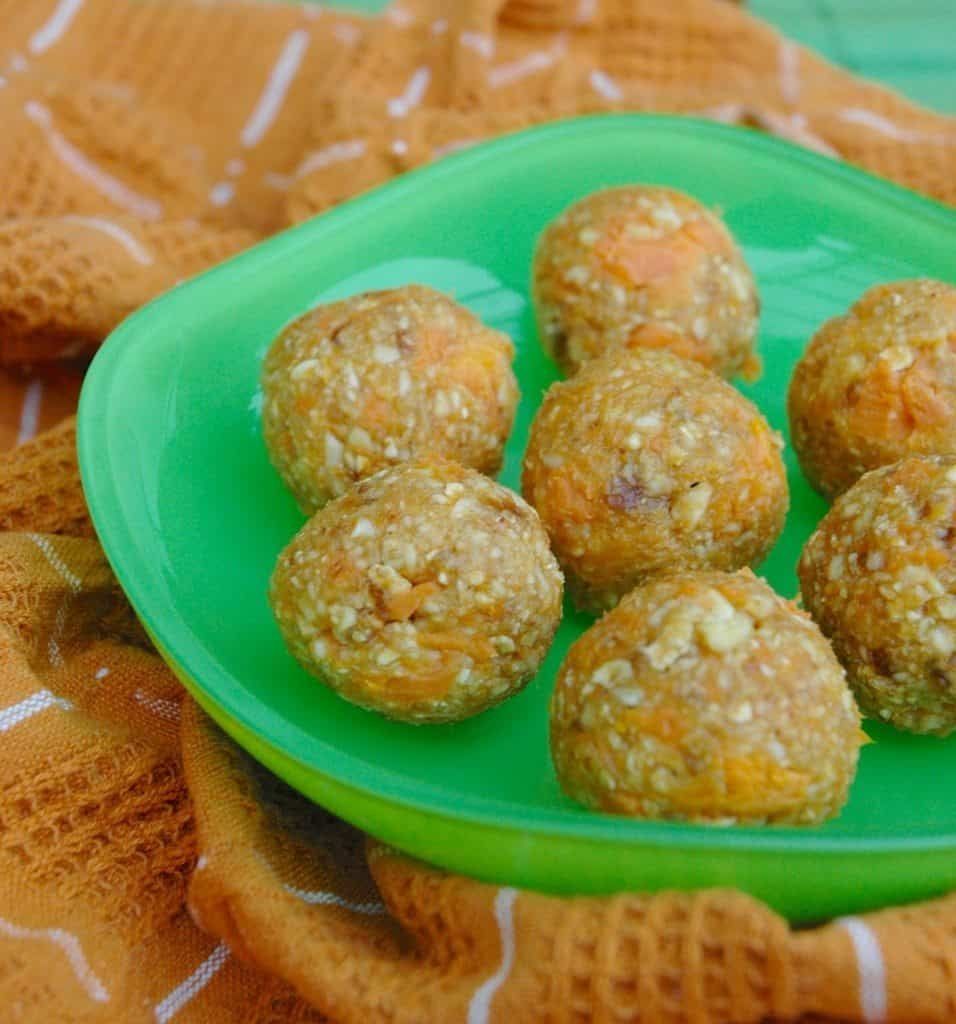 Fall is all about pumpkin spice—from pumpkin spice lattes to pumpkin spice cookies. If you can't get enough of this must-have fall ingredient, you'll love this recipe for pumpkin spice energy balls. They're a great protein-packed option for breakfast or an after lunch snack at the office. And you don't have to bake them!
The recipe has numerous healthy ingredients including oats, Medjool dates, pecans, and pumpkin puree. The oats and dates are packed with fiber—they'll help with your digestion and keep you feeling full longer. The pecans are a great source of protein and the pumpkin puree is a great source of vitamin A, which helps foster healthy vision and bone growth. In short, these energy balls are a world of good for your body!
Ready to add another pumpkin spice-flavored dish to your diet? Check out the recipe listed below.
No-Bake Pumpkin Spice Energy Balls
(Recipe from Erin Clarke at Well Plated)
Ingredients
1 cup pitted Mejool dates (about 8 ounces or 10-12 large dates)
1 cup old-fashioned rolled or quick oats
1/4 cup toasted pecan halves
1/4 cup pumpkin puree
1 tablespoon pure maple syrup
1 tablespoon chia seeds or ground flaxseed meal
2 1/4 teaspoons pumpkin pie spice
1 teaspoon pure vanilla extract
1/4 teaspoon maple flavor or extract
1/8 teaspoon kosher salt
 Directions
Chop the dates into small pieces with a food processor. The small pieces should be able to form a sticky ball.
Add the oats, pecans, pumpkin, maple syrup, chia seeds, pumpkin pie spice, vanilla extract, maple extract, and salt. Combine. The oats and nuts should be in small pieces of roughly the same size, but not completely smooth.
Transfer the mixture to a bowl, and then cover and refrigerate for at least 30 minutes.
With a spoon or cookie scoop, scoop the mixture then roll it into balls. Transfer to an airtight container and store in the refrigerator.
Store in the fridge for up to 2 weeks or freeze for up to 2 months.
Bonus. Looking for another no-bake energy ball recipe? Check out this post. These energy balls are made with oats, almond butter, ground flaxseed, chocolate chips, toasted coconut flakes, almond extract, honey, and flaxseeds. They're delicious and nutritious.