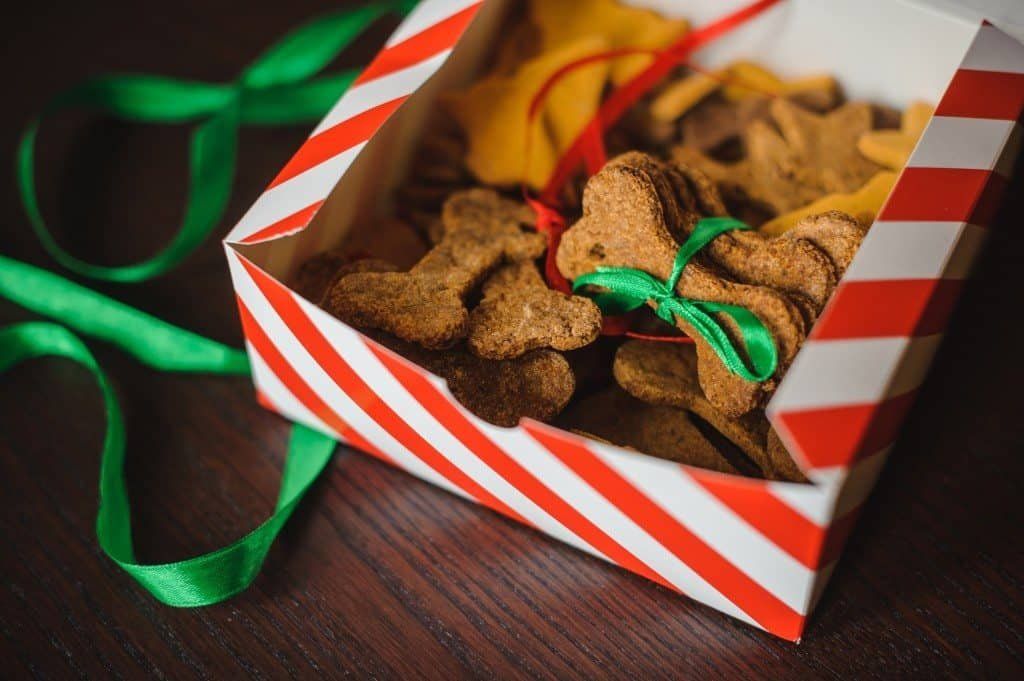 While you dine on your favorite holiday dishes don't forget about your beloved four-legged friends. Your pets can join the holiday cheer with delicious seasonal treats.
When you think of traditional holiday meals, what dishes come to mind? Holiday turkey, cranberry sauce, and mac and cheese are some delicious classics. Gingerbread cookies and candy canes are some seasonal favorites as well. This year you can make a safe version of these holiday treats for your beloved pets. Interested?
Check out the cat and dog treat recipes listed below
Meals for Cats
Chicken and cranberry cat treats. While you're eating roasted chicken and cranberry sauce, your cat can have a similar treat. This recipe can be prepared in a snap and it only calls for six ingredients: rolled oats, dried cranberries, chicken, olive oil, dried catnip, and an egg. It's a healthy and the cranberries are known to help with your cat's bladder and urethra issues.
Cat turkey balls. What's a holiday feast without a delicious turkey? Get your cats into the holiday mood with this turkey ball recipe. You can make these balls with ground turkey, carrots, Parmesan cheese, crushed crackers, powdered kitten formula, eggs, salt, and Brewer's yeast. Some cats are lactose intolerant, so if cheese and milk give your cat an upset stomach this may be a recipe you should skip or maybe you should talk to your vet first.
Holiday cheese balls. If your cat loves cheese, and many cats do, consider making feline holiday cheese balls—it'll be like their mac and cheese. This recipe for homemade cat treats is made with margarine, cheddar or cheddar jack cheese, egg, whole-wheat flour, and dried catnip. Once again, if your cats are lactose intolerant this may be a recipe to skip.
Desserts for Dogs 
Candy cane dog treats. Want to get your dogs in the holiday mood? Does your dog love peanut butter? Consider making peanut butter flavored candy canes. The recipe is made simply with almond flour, baking powder, peanut butter, and skim milk. And you can make the classic candy cane strip with an icing made with meringue powder, powdered sugar, warm water, and food coloring (or beet juice for coloring).
Canine cranberry Christmas treats. Make delicious holiday cookies that you and your pup will love to share. This Christmas cookie recipe calls for five simple ingredients: cranberries, applesauce, whole-wheat flour, cinnamon, and milk. Use fun cookie cutters and get the kids involved. This treat will make for great family fun.
Gingerbread dog biscuit. This holiday season when your dog has been a good boy give him a gingerbread cookie. This recipe for homemade dog treats calls for oat flour, cinnamon, ginger, eggs, blackstrap molasses, and pureed squash (or butternut or pumpkin). Squash is good for your dog's health because it is packed with vitamin A and calcium. And it can help prevent heart failure in your dog.