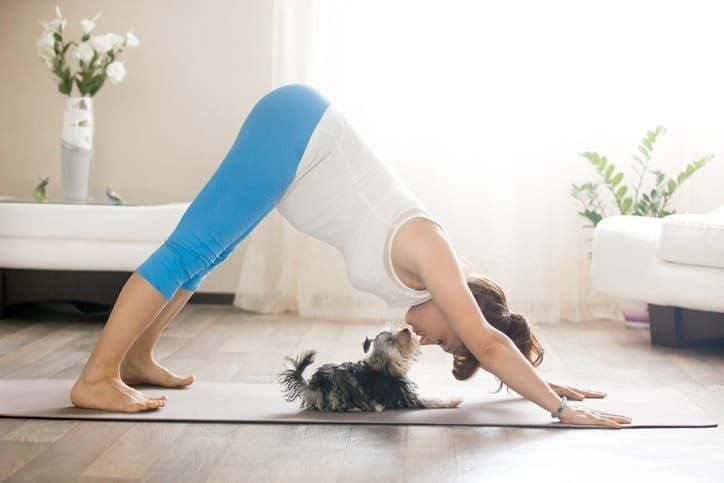 Yoga Improves Your Dogs Health
Practicing yoga can do your body a world of good. It improves your balance, flexibility, and posture while strengthening your muscles. But doing yoga with your pets, especially your dog, has added benefits that can give both you and your pet a health boost.
"Doga"
Doing yoga with your dog as your partner is called "doga." It's a combination of massages, meditation, gentle stretching, and dog and human yoga poses. While it may seem odd to some, dogs are natural yogis and do similar stretches every day. Due to rising popularity, doga can be found in animal shelters, vet clinics, and pet spas as well as yoga centers. A typical doga session usually starts with standing poses and then, as the dogs and humans calm down, everyone transitions into sitting exercises for no longer than 40 minutes.
With pet obesity on the rise, doga has many health benefits you might be interested in, from preventing arthritis and other age-related injuries to improving digestion and heart function. Doga can calm your pet's behavioral problems. Also, it can help improve your dog's socialization skills.
Your dog's health isn't the only benefit of doga. Just as dog owners get daily exercise by taking their pets on vigorous walks, doga is also an incentive to better our own health. With doga, humans are able to reap all the benefits of traditional yoga, but with a twist. By incorporating your dog you are able to "add extra weight into your routines and deepen your stretches."
So, should you consider doga? Absolutely! When practicing doga we bond with our pets by synchronizing our energy. It's also a time in which we can give our pet our undivided attention. By helping them into stretches, your pet will get used to your guiding touches. Experts say this will make things like clipping their nails easier.
Tips To Get Started With Doga 
Research. Call up local yoga center, vet clinics, and pet spas to see if they offer doga or can provide recommendations. Also, be sure to inquire about the instructor's doga background, as there's no official doga certification.
Try doga exercises. For an idea of what type of exercises are practiced during doga consider Kari Harendorf's list of common doga poses. The list includes warrior pose, triangle pose, happy puppy, and standing forward bend.
Start at home. If you're fearful that your pet may be a disruption or won't participate try going through a trial period at home before attending classes. There are home doga books and DVDs that will help both you and dog become better acquainted with this practice.