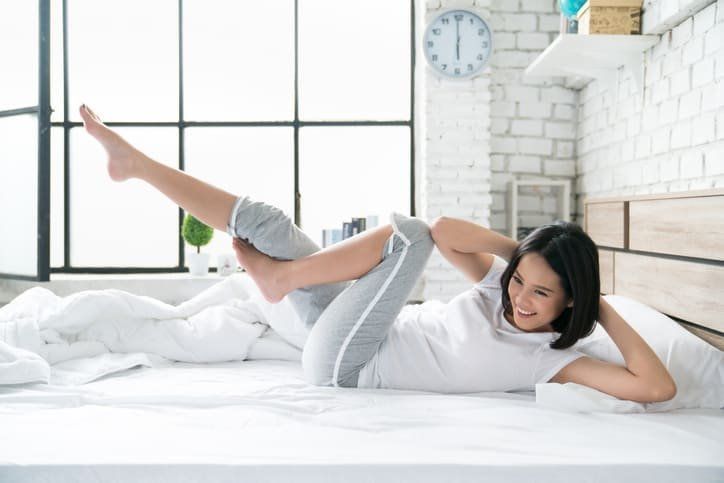 Have you ever woken up early for your morning run only to realize that's it raining outside? Whether it's simply drizzling or raining cats and dogs, most people get discouraged and head back to bed. It's very tempting, but don't take the easy way out! Get out of bed and get moving with an indoor workout routine.
Here are three exercises that can help you get into shape even on rainy days
Tai Chi
If the rain is giving you the blues then tai chi is the exercise you need to start your morning. Tai chi is a mindful exercise that relieves stress. The slow, measured movements ease stiffness in joints and it relieves pain as well. It also calms your mind. While you do tai chi clear your mind and listen to the pitter-patter of the rain. You'll feel relaxed in no time.
Need tips for the proper techniques and positions? Consider downloading the Tai-Chi app. It also offers relaxing music and nature sounds. This app is available for iPhones and Android phones.
Qigong
Looking for something slightly different from tai chi? How about qigong? Tai chi and qigong are very similar, incorporating the same techniques. What makes qigong special is that it focuses on one particular area/issue at a time, while tai chi, on the other hand, is a full-body workout.
Qigong (pronounced "chi gong") loosely translates into "energy practice." It involves slow movements, just like tai chi, but practiced over and over again. According to expert Cate Morrill, repeating the same move over and over stimulates muscle, bone, heart, and respiration functions. This is good for your overall health. Plus, your qigong workout will help you focus on your breathing and your inner energy, which is great for meditation purposes.
Resistance Training
If morning meditative exercises aren't your thing, try something completely different, like resistance training. This type of training involves working out with weights. It's great for strengthening your muscles and increasing your endurance (which can come in handy for your typical morning runs).
So, when the rain pours down simply dust off your dumbbells and start exercising. Don't have any weights? No problem! You can use objects around the house a makeshift weights. For example, a gallon jug of water weighs about eight pounds and can be used as a kettle ball. You can also fill smaller water bottles with beans, rice, or sand and use them as dumbbells.
Bonus. Looking for other indoor exercises? Check out this article on couch potato exercises. They're easy to do and you'll be able to watch your favorite programs as you workout.