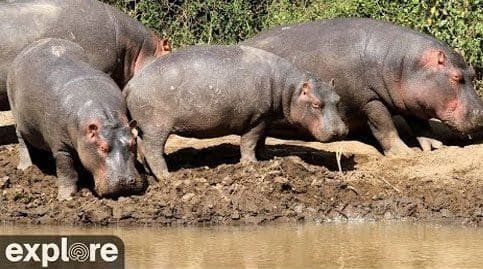 Welcome to the live view of the Hippo Pool Cam at Mpala Research Centre in the highlands of central Kenya! Watch elephants, hippos, giraffes, Grevy's zebras, gazelles, crocodiles, leopards and many other species take a drink (or a quick dip).
African Safari Live Hippo Pool
This great, live, 24 hour a day African Safari web cam gives you a round-the-clock look at the "hippo pool" watering hole in Mpala Research Centre in Central Kenya. Glimpse into the lives of elephants, lions, zebras, giraffes, hippos, birds, and other animals in a fascinating array of African landscape.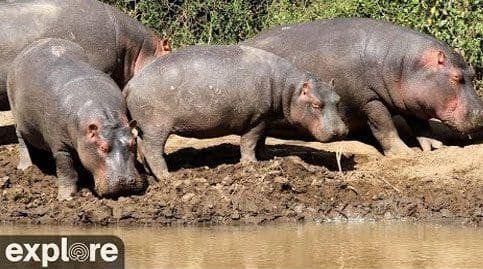 Best Times to Watch
The hippo pool watering hole cam in is on 24 hours a day. Anytime is a great time to watch!
What animals might I see?
This watering hole isn't called the "hippo pool" for no reason!. One of the biggest reasons is you can usually see the resident pod of hippos sunning themselves on the banks of the river or wallowing in the refreshing water. You'll also see Grevy's zebras, gazelles, crocodiles, leopards, and many other species.
Mpala Research Centre, Central Kenya, Africa
Established 1989, the Mpala Research Centre (MRC) receives hundreds of students, educators, and scientists from around the globe each year, conducting research on everything from parasites to elephants.
The unique set up of Mpala allows for researchers to use the land as a 'living laboratory'. As a result they can conduct experiments and answer pressing questions on conservation and wildlife. Mpala hosts multiple educational outreach programs in order to tackle issues of human-wildlife conflict. Therefore, this way they ensure that both conservation and human-livelihood goals are met.
Want to learn more? Check out Mpala's website.
Learn More About Explore.org
EXPLORE is the largest live nature cam network on the planet. Their goal is bring nature to you, raw, unscripted, and unedited. Enjoy the natural world as it unfolds in real time in front of our cameras. EXPLORE.org takes you from Kenya, Africa to the riverbanks of Katmai, Alaska and everywhere in between.

Mindful Living Network is proud to feature many of EXPLORE's amazing cams here on our site. You can check out all of EXPLORE's live cams and highlight reels on this section of their website. EXPLORE's mission is to champion the selfless acts of others, create a portal into the soul of humanity and inspire lifelong learning. That sounds pretty good to us! If you'd like, you can learn more about EXPLORE on their website, www.explore.org