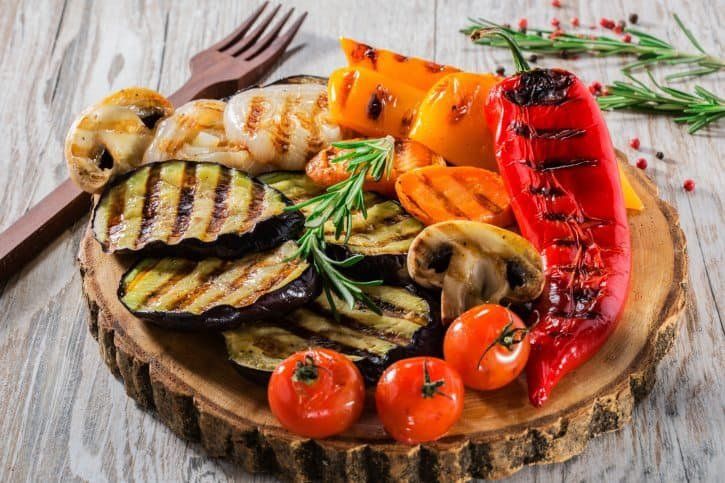 5 Great Benefits of Eating Vegetables
They are rich in antioxidants and phytochemicals to help your body.
Improve blood pressure. Nearly half of Americans have high blood pressure, according to the CDC. …
Reduce your risk of cancer…
Reduce your risk of heart disease. …
Benefit for your blood sugar. …
Up your fiber. …
Improve your skin. …
It's the best time of year to eat great local, fresh, delicious vegetables as often as possible. This is an easy staple to keep handy to pair with your meat or meat substitute. It's also a gang pleaser for your summer barbecues—low calories, low fat, and loads of nutrition. Yum!
Hungry yet? Check out the grilled vegetable recipe listed below.
Balsamic Grilled Vegetables
Balsamic glaze
1 1/2 cups of balsamic vinegar
1 tablespoons of brown sugar
2 tablespoons of honey
Balsamic marinade
1/2 cup of balsamic vinegar
1/4 cup of extra-virgin olive oil
1 tablespoon of salt
1 teaspoon of freshly ground black pepper
1 teaspoon of granulated garlic
Vegetables
(Choose any favorite veggies you love)
3 carrots, sliced lengthwise
1 bunch of asparagus or broccoli
3 large Vidalia onions, cut into rounds
Slices of zucchini, 3/8-inch thick
Slices of squash, 1/4-inch thick
Oil, for brushing grill
Directions

For the balsamic glaze

In a saucepan, on medium heat, add balsamic vinegar, sugar, and honey. Let simmer for 15 to 20 minutes or until reduced by half. Keep warm for glazing on the grill.
For the marinade
In a one-gallon re-sealable bag, add the balsamic vinegar, olive oil, salt, pepper, and garlic and mix together. Add the carrots, asparagus or broccoli, and onions, remove excess air. Allow to marinate for 30 minutes. Then add the zucchini and squash and allow to marinate for 10 more minutes.
Preheat grill to medium-high.

 Brush grill with oil. Add onions, carrots, and asparagus or broccoli. Cook on both sides for three to five minutes brushing with balsamic glaze. Let them brown evenly on both sides.
Remove to another pan and cover with aluminum foil. Add squash and zucchini to grill, brush with glaze and cook for two minutes per side, until evenly brown. Remove the food to the pan and cover.

 Drizzle the grilled vegetables with remaining glaze and serve. Yum!