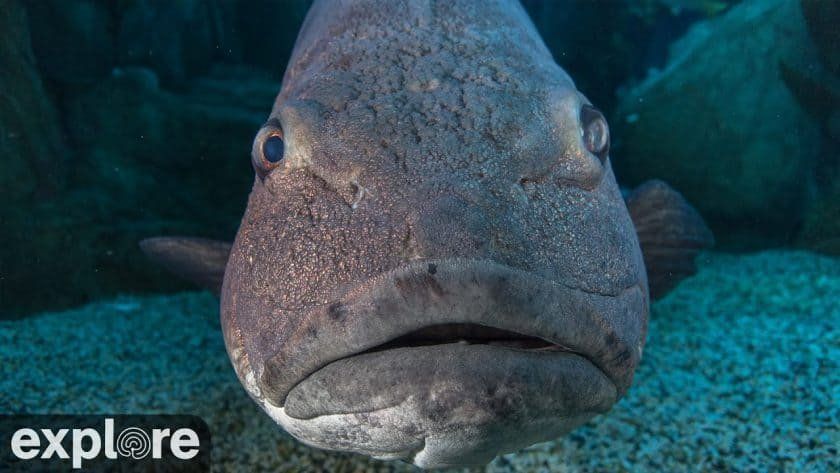 The Blue Cavern Aquarium Cam showcases a huge 142,000-gallon, three-story exhibit at the Aquarium of the Pacific. This one-of-a-kind exhibit is a massive tank that is modeled after the underwater ecosystem of Catalina Island off the coast of Southern California. Keep an eye out for leopard sharks, sheepshead, giant sea bass, moray eels, and, of course, giant kelp!
What animals can I see on the blue cavern cam?
You will see many of the marine animals you would see if you were diving off the coast of Catalina Island. Keep an eye out for giant sea bass, moray eels, kelp bass, sheephead, halfmoon, opaleye, ocean whitefish, yellowtail, white sea bass, barred sea bass, mackerel and sardines–all swimming through the swaying giant kelp. You might even catch a glimpse of a leopard shark!
Best Times to Watch the Blue Cavern Aquarium Cam
The Blue Cavern Aquarium Cam is on 24 hours a day, so anytime is a great time to watch! There are, however, some times that are better than others, because this aquarium cam also offers live diver presentations.
Live Diver Presentations

Weekdays
9:45 am
11:15 pm
1:30 pm
3:15 pm

Saturday & Sunday
9:45 am
11:15 am
12:45 pm
2:15 pm
3:45 pm
5:15 pm
Learn More About The Aquarium of the Pacific
The Aquarium of the Pacific is located in Long Beach, California. It aims to instill a sense of wonder, respect, and stewardship for the Pacific Ocean, its inhabitants, and ecosystems. Hailed as the fourth most attended aquarium in the nation, it displays over 11,000 animals in more than 50 exhibits, representing the unique diversity of the Pacific Ocean.
The aquarium also offers educational programming for people of all ages. As a result it gives its visitors the opportunity to dive deeper into the fascinating science of the world's ocean. To learn even more about the this and other exhibits, you can check out the website of the Aquarium of the Pacific.
Learn More About Explore.org
EXPLORE (www.explore.org) is the largest live nature cam network on the planet. Their goal is bring nature to you, raw, unscripted, and unedited. Enjoy the natural world as it unfolds in real time in front of our cameras. EXPLORE.org takes you from Kenya, Africa to the riverbanks of Katmai, Alaska and everywhere in between.