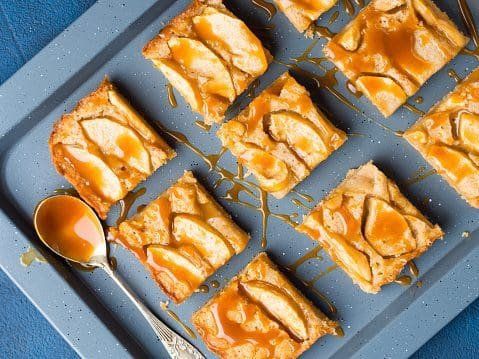 If you're a big fan of brownies, but not a big fan of chocolate, blondies are the dessert for you! In honor of autumn and National Caramel Month, you should definitely give this recipe for caramel apple blondies a try. This blondie recipe has the textures of a brownie with a caramel sweetness and the tartness of apples. Delicious!
The Health Benefits of Apples
October is not just Caramel Month—it's also National Apple Month and this blondie recipe calls for both caramel and diced apples. Apples are packed with rich nutrients that are essential for optimal health, such as fiber and vitamins C. Apples are great for your mental and heart health, and they can help with your digestion.
Ready to get baking? Check out this blondie recipe from Like Mother Like Daughter listed below.
Caramel Apple Blondies
(Recipe from Like Mother Like Daughter)
Ingredients
1/2 cup of butter, softened
1 cup of brown sugar
1 egg
1/2 teaspoon of vanilla extract
1/2 teaspoon of salt
1 teaspoon of cinnamon
1 cup of flour
1 1/2 apples, peeled and diced
8 ounces of soft caramels (about 1 1/2 cups)
1 tablespoon of whole milk
Sea salt
Serving Options (Optional)
Extra caramel sauce (made with soft caramels and whole milk)
Directions
Preheat the oven to 350 degrees.
Line an 8x8in pan with a sheet of parchment paper.
In a medium-sized bowl, cream together your butter and brown sugar. Beat for two minutes until light in color.
Add in the egg and vanilla extract and stir until combined.
Pour in the salt, cinnamon, and flour and stir to combine.
Fold in the apple pieces.
Scoop half of the batter into the prepared pan and flatten.
Add the caramels and milk to a small saucepan over medium heat. Heat until caramels are fully melted and creamy.
Pour melted caramel over the blondie dough in the pan.
Drop the remaining dough and spread over the caramel evenly.
Bake in preheated oven for about 30 minutes, until a toothpick comes out clean.
Sprinkle the caramel apple blondies with sea salt and allow to cool before slicing and serving.
Serve warm with extra caramel syrup, if desired.
Bonus. This isn't the only caramel recipe you should try! If you're looking for other sweets, try caramel apple slices. To make it you simply dip slices of apple into caramel sauce and top with nuts like walnuts and peanuts. Looking for other apple desserts? How about homemade apple fritters? They're really delicious, but if you're looking for something healthier than this apple fried treat, try baked apples with ice cream. With this recipe, you bake apples with butter, cinnamon, and honey.