5 Ways Pets Boost Your Health
~ Anonymous
A pet is certainly a great friend. After a difficult day, pet owners quite literally feel the love. In fact, for over 25 years, research has shown that living with pets provides certain health benefits. Pets help lower blood pressure and lessen anxiety. They boost our immunity. They can even help you get dates.
Check out these five amazing benefits of pet ownership:
1. Allergy Fighters
According to WebMD, kids who grow up in a home with pets or on a farm with large animals are less likely to have allergies and asthma. In a related study, James E. Gern, M.D., a pediatrician at the University of Wisconsin-Madison, analyzed the blood of babies immediately after birth and one year later. He looked for evidence of an allergic reaction, immunity changes, and for reactions to bacteria in the environment. He found that if a dog lived in the home, infants were less likely to show evidence of pet allergies. They also had a stronger immune system and were less likely to have eczema.
2. Date Magnets
Dogs are great for making love connections. They make a natural conversation starter, helping ease people out of social isolation or shyness. People ask about breed, they watch the dog's tricks," Nadine Kaslow, Ph.D., professor of psychiatry and behavioral sciences at Emory University in Atlanta, tells WebMD, "Sometimes the conversation stays at the 'dog level,' sometimes it becomes a real social interchange."
3. Dogs for the Aged
"Studies have shown that Alzheimer's patients have fewer anxious outbursts if there is an animal in the home," says Lynette Hart, Ph.D., associate professor at the University of California at Davis School of Veterinary Medicine, "Their caregivers also feel less burdened when there is a pet, particularly if it is a cat, which generally requires less care than a dog." Walking or just caring for a pet can provide exercise and companionship for older individuals. In fact, Midland Life Insurance Company of Columbus, Ohio, asks clients over age 75 if they have a pet as part of their medical screening — which often helps tip the scales in their favor.
4. Good for the Mind and Soul
Stressed people experience a rise in cortisol and norepinephrine levels. This can negatively affect the immune system and cause plaque buildup in arteries, which leads to heart disease. Fortunately, playing with a dog can elevate levels of serotonin and dopamine (nerve transmitters that are known to have pleasurable and calming properties). Blair Justice, Ph.D., a psychology professor at the University of Texas School of Public Health, tells WebMD, "People take drugs like heroin and cocaine to raise serotonin and dopamine, but the healthy way to do it is to pet your dog, or hug your spouse, watch sunsets, or get around something beautiful in nature."
5. Good for the Heart
Heart attack patients who have pets survive longer than those without, according to several studies. For instance, in a high blood pressure study stockbrokers who adopted a cat or dog later had lower blood pressure readings in stressful situations compared to those without pets. Researchers also say that male pet owners have less sign of heart disease (lower triglyceride and cholesterol levels) than non-owners.
---
A Cat Can Save Your Life
~ Anonymous
Choose a Cat or Home Spa?
In America there are 
95.6 million pet cats
 and millions more waiting to be adopted. These furry friends not only make great additions to American families, they can also benefit the overall wellbeing of their adopted families. In fact, having your cat meet you when you walk in the door from work is actually healthier than visiting a spa.
Surprising Health Benefits of a Cat
Sharing your life with a four-footed friend has numerous health benefits. Studies show that petting
a purring cat
can actually lower your stress. Studies have also found that the purring
vibrations
from a cat can also heal infections, muscle injuries, and promote bone strength. It's also been suggested that cats could help lower human risk of cancer. And that owning a cat can also lower blood pressure, lower cholesterol, and ward off depression.
Lower the Risk of Stroke and Heart Disease
A study presented by the American Stroke Association at the International Stroke Conference shows that cat owners are less likely to die of a heart attack and other cardiovascular diseases than people who have never had a cat. In the study people who never had a cat were 30 percent more likely to die of cardiovascular disease, including stroke, heart failure and chronic heart disease.  Over the 20-year study of people between the ages of 30 and 75 years old, participants without a cat were 40 percent more likely to die of a heart attack.
Thinking About Bringing a Loving Cat Into Your Family?
You aren't alone. Millions of Americans consider adopting a pet every year and three to four million cats and dogs are adopted each year. Unfortunately, more people are needed to adopt pets as 2.7 million adoptable cats and dogs are euthanized in shelters each year. Many of Americans think they are too busy or do not have enough time or money for a cat. However, these studies show that owning a cat may cut your mental and physical healthcare costs by a significant amount not including the pain and suffering caused by diseases.  The animal shelters are overflowing with beautiful, loving, tame cats that need a home. Please consider a four-legged angel, or more than one, in your plans for this year.
---
10 Toxic Table Scraps for Pets
~ Anonymous
Many humans treat their pets like family, showering them with love via treats and table scraps. Unfortunately, this can have serious consequences for our pets' health. Certain foods for humans can be toxic to dogs and cats. Although Fluffy or Spot may seem to enjoy them, table scraps can make pets sick. The human diet is unsuitable for pets—it can lead to pet obesity and other health problems. In addition, there are certain foods that are perfectly fine for humans but toxic to dogs and cats. Listed below are a few substances that you should be wary of.
Toxic Foods for Dogs and Cats
Milk. You may like ice cream and milk, but it may not be good for your pets. The lactose from cow milk and milk-based products can lead to upset stomachs and diarrhea in pets. Even cat owners should avoid giving their little Fluffy milk products.
Raw meat. Fresh food is good for our pets, but not raw meat. When you feed your pets raw meat you could be exposing them to bacteria such as E. coli and salmonella.
Caffeinated foods. Caffeinated substances such as chocolate, coffee, tea, and energy drinks contain methylxanthines. If pets are exposed to methylxanthines it can trigger vomiting, diarrhea, tremors and abnormal heartbeats. In some instances, it can also lead to death.
Grapes and raisins. While certain fruits are healthy for pets, grapes are not one of them. Grapes and raisins can be toxic to dogs and cats. When consumed they can cause vomiting, loss of appetite, kidney failure, and depression in pets.
Macadamia nuts. These delicious nuts are toxic for our four-legged friends. Eating as little as six nuts can cause pets to become weak and experience depression and tremors. Dogs, in particular, are very sensitive to these nuts and the symptoms start to appear after 12 hours.
Alcohol. Obviously, you wouldn't give your pets a sip of beer or wine, as it would disorient them and make them sick. But even giving them foods that have been cooked in alcohol could be a bad idea. It can lead to vomiting, tremors, comas, and even death.
Onions. Are onions toxic to dogs? The short answer is yes, onions are not safe for pets either. They can damage their red blood cells and cause gastrointestinal irritation. Keep onions away from pets and also be sure to avoid giving pets food that is cooked with onions.
Nutmeg. This common spice contains the myristicin compound, which is dangerous for pets. When consumed it can cause hallucinations, disorientation, and abdominal pain. High concentrations can lead to tremors, seizures, and nervous systems abnormalities.
Rhubarb. A common ingredient in certain pies and jams, rhubarb is extremely toxic for our furry friends. The oxalates in rhubarb can lead to kidneys and nervous system damage. It can also cause tremors and salivation. Keep rhubarb and the leaves away from your pets.
Avocados. Guacamole is delicious, but it dangerous for our animals. Avocados contain persin and if consumed by our pets it can lead to breathing problems, accumulation of fluid around the heart, and death. Not just avocados, but the whole plant should be kept away from cats and dogs.
---
The Horse With a Stethoscope
~ Anonymous
This is a story of Peyo, a 14-year-old therapy horse who brings people joy and serenity. He meets patients and residents in retirement homes and hospitals twice a month. Everytime he goes to work, he brings smiles and encouragement to those who need it most. Hospital staff all over Dijon, France say it seems like Peyo has a sixth sense. He decides which rooms he wants to enter. Somehow, he seems to always choose the person who needs him most. Watch the video above, and you'll see Peyo insist on entering a room of a young man who does not have long to live. The connection the two make will bring you to tears. [caption id="attachment_88324" align="alignleft" width="351"]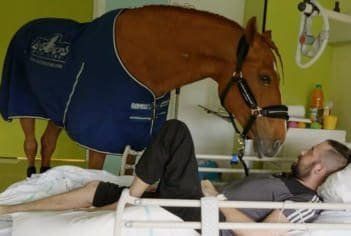 Doctor Peyo, Therapy Horse[/caption] Peyo meets patients and residents from pediatrics and palliative care unit, psychiatry and Alzheimer's services. He also visits the elderly and end-of-life children at homes. This unusual equine therapist, known for his amazing sense of people and their needs, has a presence that undoubtedly boosts patients morale and bring smiles to those who need it most. Doctors and nurses say that routine contact with Peyo is improving patients' mood. Peyo forms immediate connections with everyone he comes across. After all, who doesn't love horses? Hassen Bouchakour, Peyo's trainer from the Les Sabots du Coeur Association, says: "It is one of the most pure, honest, and sweet things." He also adds, "They like each other very much without asking for anything else." Now that's a (therapy) horse of a different color! Our gratitude goes out to Doctor Peyo who is an inspiration to everyone who hears his story. We should all be so lucky as to be able to help people or bring them joy and peace simply by being near them.
---
Yoga with Your Pet
~ Anonymous
Practicing yoga can do your body a world of good. It improves your balance, flexibility, and posture while strengthening your muscles. But doing yoga with your pets, especially your dog, has added benefits that can give both you and your pet a health boost.
"Doga"
Doing yoga with your dog as your partner is called "doga." It's a combination of massages, meditation, gentle stretching, and dog and human yoga poses. While it may seem odd to some, dogs are natural yogis and do similar stretches every day. Due to rising popularity, doga can be found in animal shelters, vet clinics, and pet spas as well as yoga centers.
A typical doga session
usually starts with standing poses and then, as the dogs and humans calm down, everyone transitions into sitting exercises for no longer than 40 minutes. With
pet obesity on the rise
, doga has many health benefits you might be interested in, from preventing
arthritis and other age-related injuries
to
improving digestion and heart function
. Doga can calm your pet's behavioral problems. Also, it can help improve your dog's socialization skills. Your dog's health isn't the only benefit of doga. Just as dog owners get daily exercise by taking their pets on vigorous walks, doga is also an incentive to better our own health. With doga, humans are able to reap all the benefits of traditional yoga, but with a twist. By
incorporating your dog
you are able to "add extra weight into your routines and deepen your stretches." So, should you consider doga? Absolutely! When practicing doga
we bond with our pets
by synchronizing our energy. It's also a time in which we can give our pet our undivided attention. By helping them into stretches, your pet will get used to your guiding touches. Experts say this will make things like clipping their nails easier.
If you're looking for tips on how to get started on doga consider these Mindful suggestions:
Research. Call up local yoga center, vet clinics, and pet spas to see if they offer doga or can provide recommendations. Also, be sure to inquire about the instructor's doga background, as there's no official doga certification.
Try doga exercises. For an idea of what type of exercises are practiced during doga consider Kari Harendorf's list of common doga poses. The list includes warrior pose, triangle pose, happy puppy, and standing forward bend.
Start at home. If you're fearful that your pet may be a disruption or won't participate try going through a trial period at home before attending classes. There are home doga books and DVDs that will help both you and dog become better acquainted with this practice.
---
Cat Ownership Brings Lots of Joy
~ Anonymous
Most individuals feel isolated and lonely these days. Many of us live in a chronic state of fear and anxiety. Luckily, there is a furry, loving medication that can be your prescription for better health. Just like sunshine and vitamins, dogs and cats make you healthy. Sharing your life with a four-footed friend can offer your life a variety of health benefits. Being a pet owner can lower blood pressure, lower cholesterol and ward off depression. Animals remind us each day of the simple joy of being alive.
Other perks of owning a pet include:
Lowered blood pressure and lowered cholesterol
Reduced stress
Medication costs can drop
In addition, research reveals that there are many health benefits of having a cat. Through "feline therapy" you can relieve tension in your bodies just by petting them. The sounds and vibrations of their purrs can also help you relax. Studies also suggest that their purrs may help heal bones, infections, and swelling. Having a cat is known to lower symptoms of depression and reduce anxiety, which is especially great if you suffer from stress. An American Stroke Association study also showed that cat owners are less likely to die from a type of heart disease than people with no cat. In fact, cat owners are 40 percent less likely to have a stroke and 30 percent less likely to have a heart attack. Many of us think we are too busy or do not have enough time or money for a cat. This study shows that owning a cat may cut your mental and physical healthcare costs by a significant amount not including the pain and suffering caused by diseases. Cats are a fun addition to any family. Their unique personalities and the humorous situations they get themselves is enough to keep you laughing all day long. And everyone knows that laughter is the best medicine. Considering welcoming a pet into your family? There are animal shelters that are overflowing with beautiful, loving tame cats that need a home. Please consider a four legged angel, or more than one, in your plans for this year.
---
Pet Obesity on the Rise
~ Anonymous
Overeating is a dangerous problem for people around the world. Unfortunately, our unhealthy habits are starting to affect our furry friends. In America, there are 165 million owned cats and dogs. CNN and the Association for Pet Obesity Prevention state that 55 percent of adult cats and 53 percent of adult dogs in America are overweight or obese, that's nearly 47 million cats and 41 million dogs. And most of these pets weigh 30 percent more than they should. An unhealthy weight can cause cats and dogs medical issues similar to humans. They commonly have ailments like asthma, arthritis, back problems, cancer, diabetes, heart disease, high blood pressure, kidney failure, liver inflammation and orthopedic problems. Obesity may also shorten the lifespan of pets by up to 2 ½ years. An obese pet can also cause financial strains too. A survey showed that owners of diabetic cats and dogs paid $900 for veterinary care per year. Owners of arthritic pets paid $2,000 for care. Veterinary Pet Insurance says that in 2011 1.1 million claims were filed due to weight-related problems. And it cost more than $28 million. Many factors cause animal obesity. Most get too much food and little exercise. There's also a growing "fat pet gap" in which pet owners seem unaware that they're contributing to their pet's bad health or unwilling to admit it because it reflects their own health issues. In fact, in a survey "22 percent of dog owners and 15 percent of cat owners thought their pets were healthy when in fact they were overweight or obese.".
So, do you need to reduce the weight of a pet? Here are some tips:
Talk to your vet. Before you start any weight loss program for your pet it's important to consult with your vet first. They can give your vital advice about food, exercise and other tips you may need.  You may be overfeeding your dog or cat.
Monitor their food. Check the nutritional value and ingredients on your pet's food label. Give up on treats for your dog's tricks; give praise and affection instead.
Exercise. According to reports dogs need a one 30 minute brisk walk every day. Cats have bursts of energy, so plan fun, active games with them a few times a day.
Improve your health too. If you're a couch potato your dog will be too. So help your pets by being more active.
---
Harmful Over-the-Counter Flea and Tick Products
~ Anonymous
Summer is approaching and so are those pesky pests such as fleas and ticks.  There are various methods for controlling these pests, but please keep your pet's health in mind and check with your veterinarian for the best choice for your dog. Beware not to over medicate or chemicalize your pets with over the counter flea and tick products. Pyrethrins is an extract from chrysanthemum flowers that have been used for over 100 years as the most common ingredient in flea and tick products for pets. It effects the nervous system of insects and as a result, insects like ticks, fleas, lice and mosquitoes die. Commercial, over-the-counter spot on flea medications have high concentrations of pyrethroids--a synthetic, lab created chemical similar to pyrethrin-- that range from 40 percent to 85 percent solution, eight to 17 times stronger than the strongest pyrethroid product currently approved for use on humans. In fact, some over-the-counter products will read: "Harmful if swallowed or absorbed through skin," while the application portion of the label directs people to "apply the treatment to the dog's skin."
Pets can get chemical burns from using these flea and tick products.
Some dogs and cats are more sensitive to over the counter flea control products than others, just like people are more sensitive to skin products.  When you apply any flea control watch for your pets' reactions.  If your pets act differently (running from you, turning in circles or rolling around), an adverse reaction may be occurring. There are also more natural products that can be used such as diatomaceous earth, citrus extracts, sodium laurel sulfate and oregano oil that is natural and still does the trick in controlling the flea and tick population. Do your own research to find out which works best for you and your pets. Some recommended "human" remedies also does the trick on animals.
Here is a recipe for homemade citrus spray repellent:
2 oranges, lime or lemons into quarters.
Drop them in 4 cups of boiling water. Allow to steep overnight.
Mix in 50/50 part of apple cider vinegar (in this case, 2 cups).
Pour the liquid in spray bottles and use the formula as repellent.
A good way to spread this mixture is using it during daily grooming time (when brushing your pet; be sure to concentrate around the tail base, legs and behind the ears).
Keeping pets healthy and feeding them good food, will help keeping them healthy and many may not even require flea and tick products. Read the ingredients on food packages; meat should always be the first product (healthy immune system is the best defense against pests). Beware of chemicals used on lawns and parks as well. You might want to kill fire ants, have a pretty and lush yard, but your pet's nose is much closer to the ground than you are, and therefore, they are affected by these chemicals easier and more often than you imagine.
---