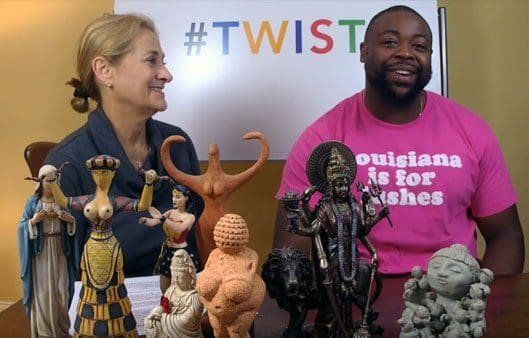 How have we lost our way in this modern culture? Do we really think, dress, and imagine ourselves and our daughters as holy and sacred anymore? We seem to be obsessed with the latest diet, fashion, makeup, or haircut to make us happy and think it may make us feel whole. It is an elusive dark hole we seem to get sucked into.
The feminine has been celebrated since ancient Greece and throughout the ages in all cultures, religions, and spiritualities. The theology of the Amma is essentially the holy mother, governing all the early monasteries.  She was in charge of the spiritual, economic and logistical existence of each female monastic group. Throughout time Amma has been revered with great honor and respect.
There has always been a Divinity associated with the concept of the feminine, women, and mother. God appears in female forms throughout
time in enumerable incarnations throughout history. One of the most iconic symbols of Divine motherhood is the Blessed Mother of Jesus.
We need to work towards reclaiming  the reverent respect, sacredness, and power for the feminine in each of us. Here are some tips to help you:
Tips to help you celebrate and reclaim the feminine in your life
Honor your ancestral mothers from your past.
Say a prayer of thanks for their lives and sacrifice. These may be mothers, grandmothers, aunts, teachers, neighbors or friends. If you are close to their graves, take a flower to show your reverence for their lives before you.
Call the women in your life and celebrate at lunch this month.
Laugh, tell stories and celebrate the gifts of life you all share in your life's journey.
Be aware of the media.
Pay attention to how women are depicted in advertisements or the media. Your voice is powerful. Write blogs, tweets, emails to the companies and express your acceptance or distaste of their depictions of women in their ads, magazines or on their television shows.
Dress for Success.
If you are a woman, dress with class, authority, power, and grace. Your exterior speaks volumes about how you feel about being a woman.