Check out this motivational graduation speech given at Harvard University a few years ago. Harvard's 2016 graduate Donovan Livingston's gives a spoken-verse commencement speech, which is not often done. Harvard educators have called it "one of the most powerful, heartfelt student speeches you will ever hear!"
Faculty chose Donovan Livingston, a master's graduate at the university, to speak at graduation.  Instead of a traditional speech, Livingston used spoken word to perform his poem, "Lift Off."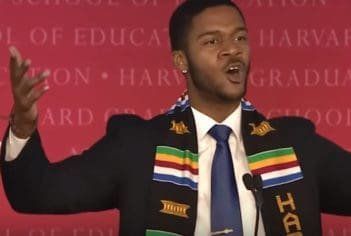 Livingston told ABC News that the "true inspiration behind the piece" was the fact that he couldn't perform a poem when he gave his commencement remarks during his senior year of high school. "The teacher who was in charge…threatened to take me offstage or cut my microphone when she caught wind that I wanted to incorporate a poem," he recalled. "She wanted it to be traditional. So I complied, but I really wanted to address my class in my most authentic voice".
His poem/speech talks about racial inequalities in the educational system and what it means to be black at Harvard. Donovan says he hopes it inspires others (as well as future educators) to help people realize their full potential.
Check out more motivational videos here.