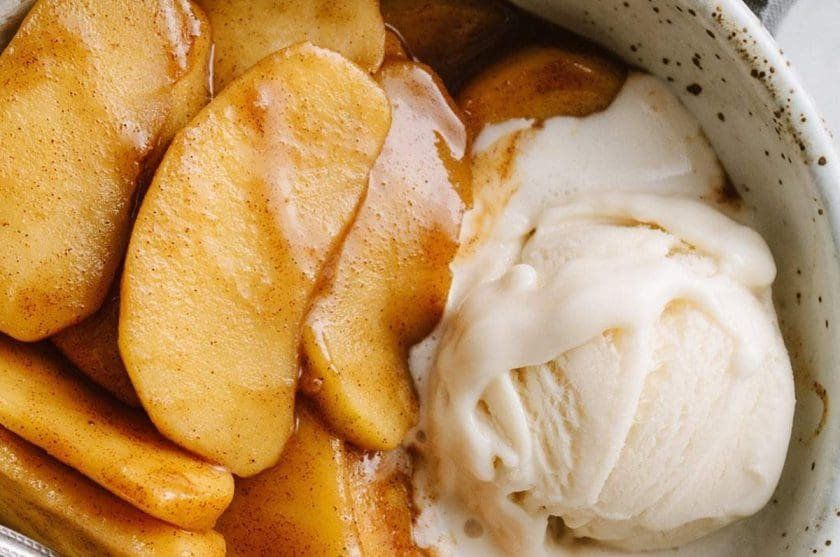 October is National Apple Month
Do you plan to go apple picking this fall? Whether you pick you own apples or buy them from the store, there is a yummy treat you'll want to try this fall. October is National Apple Month, so celebrate with a yummy dessert recipe for baked apples and ice cream.
This wonderful fruit is packed with rich nutrients that are essential for optimal health. Apples are full of fiber and vitamins C. Research shows that apples have cardiovascular benefits like lowering cholesterol levels. The fruit can also help with your digestion, regulate your blood sugar, and reduce your risk of diabetes. And with October being Breast Cancer Awareness Month you'll be happy to know that apples are reported to ward off breast cancer. You and your children can make this sweet, nutritious apple recipe in a few minutes.
Create This Simple Yummy Apple Recipe
Ingredients:
3 medium apples, washed, cored, peeled & sliced into uniform size slices (this is for a serving of two)
3 tablespoons raw/turbinado sugar or honey
1 1/2 tablespoons butter
1/4 teaspoons cinnamon
Ice cream, yogurt, or whipped cream
Garnish with walnuts
Directions:
Use a microwave safe dish with lid or use plastic wrap or wax paper to cover.
Melt one teaspoon of butter in glass baking dish in microwave oven (about 15 seconds on high or until butter melts).
Wash, core, peel and slice apples into uniform-size slices.
Put sliced apples in glass baking dish of melted butter.
Stir them so they will be covered with the melted butter.
Sprinkle raw sugar or honey over the apples.
Then sprinkle the cinnamon over the apples and brown sugar / honey.
Top with dots of butter (the remaining 1/2 tablespoon of butter).
Put lid on baking dish or cover with plastic wrap or wax paper.
Microwave five minutes on high or until tender (five to seven minutes on high).
On top of hot apples, put a scoop of ice cream or whipped cream.
Bonus: There are many garnishing options to consider. Nutty flavors compliment apples very well. So, consider walnuts or almonds. Would you like a healthier alternative? Try almond yogurt.