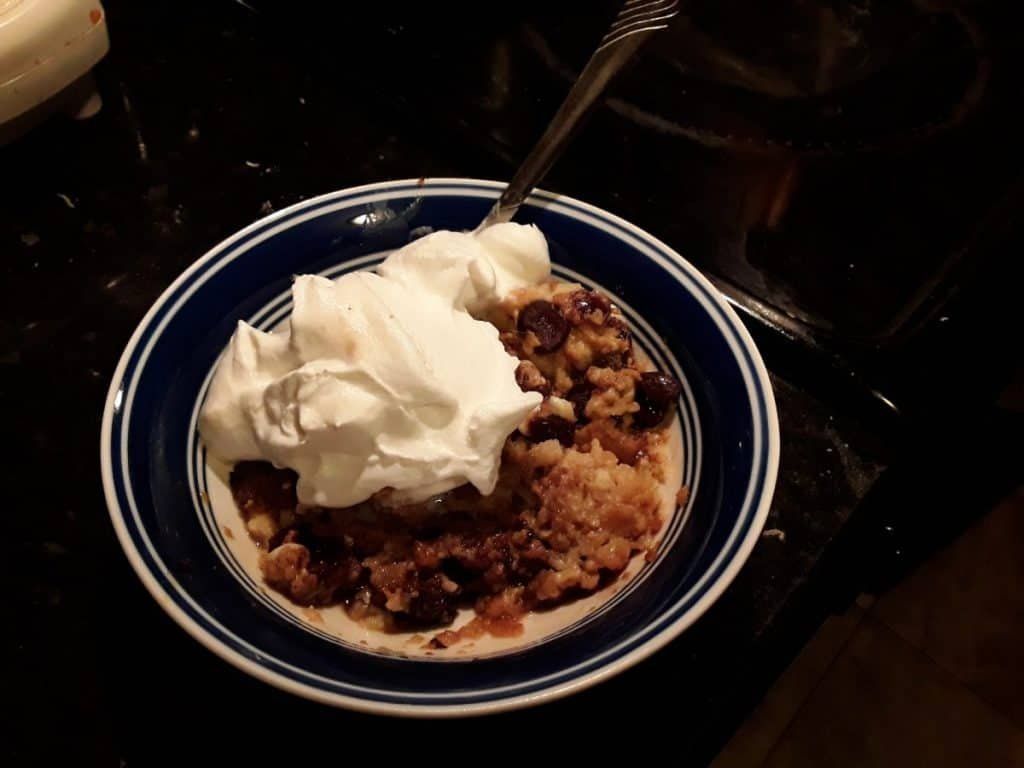 Did you know that bread pudding is a bread-based dessert popular in many countries' cuisines? Well, it is =)
Bread pudding is made with  bread and milk or cream, generally contains eggs as well as a form of fat such as oil, butter. The bread is soaked in the liquids, mixed with the other ingredients, and baked. Usually, traditional bread pudding is baked in the oven, but you can make it in your crock pot or slow cooker too. Although, in this recipe, we are using a crockpot instead of an oven to make our bread pudding.  And boy, is it good! And if  bread pudding isn't your thing, we've got lots of other dessert recipes you might like instead!
Easy Crock Pot Bread Pudding Recipe
Total Time: 3 hours, 30 minutes
Prep Time: 10 minutes
Serves: 8
Tip* bread pudding is made with plain white bread or day-old baguettes. However, any type of plain yeasted bread can work, from white to wheat to multigrain.
Ingredients
1/3 cup plus 1 tablespoon butter, melted
8 cups day-old bread, broken or cut into bite-sized pieces
1/2 cup brown sugar
3 large eggs, at room temperature
2 1/2 cups milk, at room temperature
1 vanilla bean or 2 teaspoons vanilla extract
1/2 cup dried cranberries or raisins
Tip* This recipe works with fresh fruit just as well as it does with dried fruit. Instead of the raisins or cranberries, try adding 1/2 to 1 cup of fresh blueberries or fresh apple slices. Or, if you want a traditional apple-cinnamon flavor, omit the vanilla, and substitute 1/2 teaspoon cinnamon for it.
Directions
Grease the inside of the Crock-Pot with 1 tablespoon butter.
Heat the Crock-Pot to low, and place the bread pieces in.
In a large bowl, whisk the butter with the brown sugar and the eggs.
Whisk in the milk.
Whisk in the vanilla extract, or slice the vanilla bean open and remove the seeds, whisking them into the mixture.
Sprinkle the dried cranberries or raisins over the bread pieces.
Pour the milk mixture over the bread pieces, making sure they are all moistened.
Cook the bread pudding on low for 3 to 4 hours or until the liquid has turned to a custard-like consistency.
Tip* Serve bread pudding while warm. Top with scoops of vanilla ice cream and/or whipping cream .