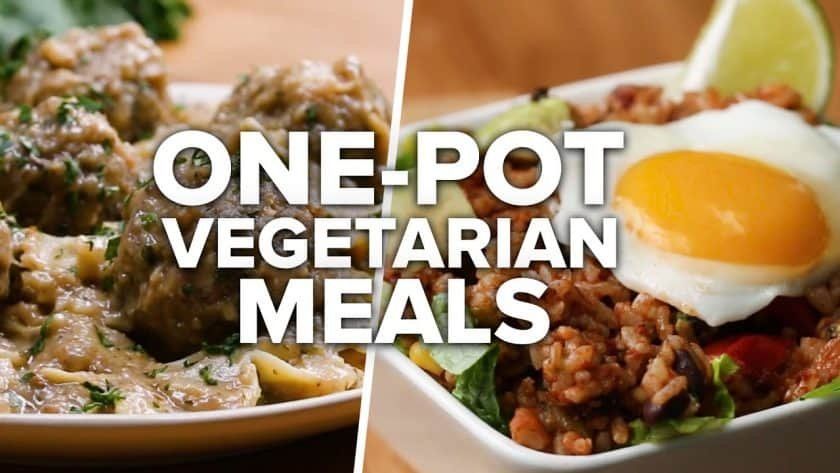 Are you tired of eating the same thing? We're here to help, with some easy one-pot vegetarian meals anyone can make! One-pot meals are your answer to easy weeknight dinners! Everything cooks in one pot or pan for maximum flavor and minimum cleanup!
Want to try one of the easy recipes? We know you do, so here's you go. By the way, all the other easy one-pot vegetarian recipes can be viewed here.
One-pot Pasta Primavera Recipe
Ingredients
4 cups broth, of your choice
10 oz linguine, uncooked
10 oz broccoli floret
1 lb asparagus, chopped into 1-inch (2 cm) pieces
1 small onion, diced
4 cloves garlic, minced
½ teaspoon red pepper flakes
salt, to taste
pepper, to taste
1 teaspoon olive oil, to taste
4 oz mushroom, sliced
¼ cup heavy whipping cream
½ cup grated parmesan cheese
3 tablespoons fresh parsley, finely chopped
Directions
In a pot over high heat, combine broth, linguine, broccoli, asparagus, onion, garlic, red pepper flakes, salt, pepper, and olive oil. Stir.
Add the mushrooms and bring to a boil.
Once at a boil, reduce heat to medium and cook the pasta for 10 minutes, continuously tossing with tongs.
Add the heavy cream, parmesan, and parsley, and toss for an additional 3 minutes. If the liquid hasn't been completely absorbed, let the pasta sit off the heat for an additional few minutes.
Video brought to you by TASTY.