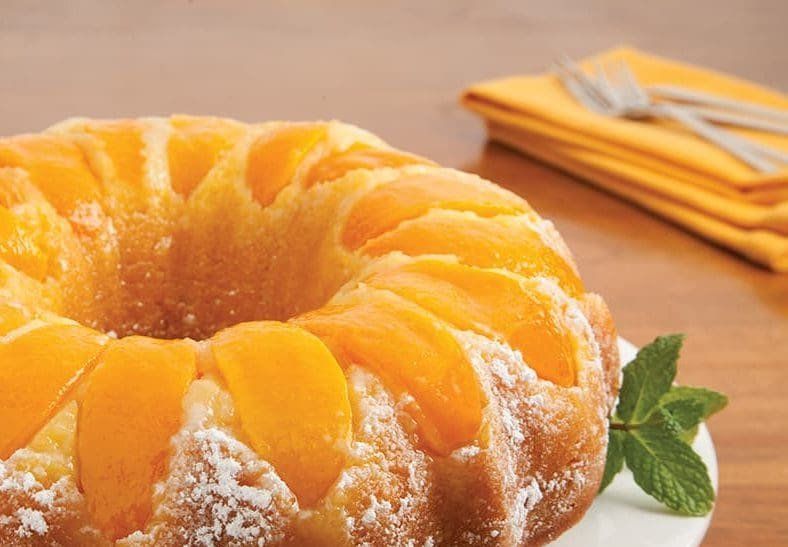 Peachy Ice Cream is delicious, but for an even more peachy dessert, you should consider this peach cake. It's part cobbler, part cake, and 100 percent yummy. Our easy, in-a-pinch recipe is great for the summer and it only contains five ingredients. Check out the simple recipe below.
Despite how sweet a peach can be, it is a low-calorie fruit that is low glycemic, so it won't cause sudden change in blood sugar. A single peach has 38 calories, fewer than apples or pears. It contains ten percent of the recommended daily intake of vitamin C, and it also has two grams of fiber. Peaches are filling because they contain 87 percent water, making it a perfect snack between meals and a great hydrating fruit. Peaches also contain flavonoids in their skins, which research suggests may prevent cancer and heart disease.
Easy Peachy Cake
Ingredients
5 medium peaches
1/2 cup of raw sugar or agave syrup
1 box yellow cake mix
1/2 cup of water
1 stick of butter
Directions:
The peaches can have the skin on or off. To peel the peaches, boil water and drop the whole peaches in water for 5 minutes; immediately remove the peaches and place them in ice-cold water. Then peel the skin.
Slice the peaches, remove the pits, and toss the peaches in raw sugar or agave syrup.
Refrigerate the peaches for 15-20 minutes (you can prepare these three steps in advance).
Grease the pan with butter.
Preheat the oven to 350 degrees.
Pour the yellow cake mix into the pan.
Pour in the water and lightly mix with a fork.
Add in the sweetened peach, juice/water and all, to the pan.
Cut the butter into small cubes and place them on top of the mixture.
Bake for the cake 40 minutes or until golden brown.
Allow the cake to slightly cool before serving.
Serving Bonus: Serve slices of the peachy cake with whipped cream, vanilla ice cream, or the Mindful Peachy Ice Cream. The cake slices can also be garnished with fresh peaches and powdered, caramel sauce and sliced almonds, cream cheese glaze, or cinnamon. The options are endless and tasty, so be sure to try many different options.