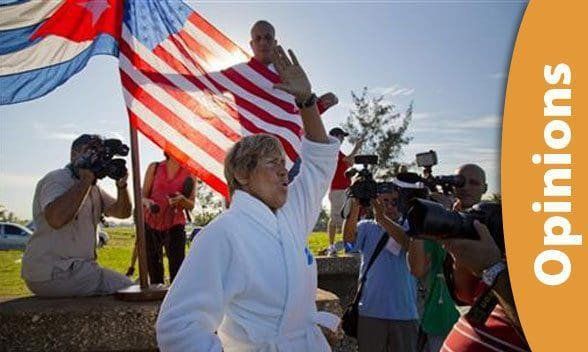 OPINION:
"Find a Way" is the mantra swimmer Diana Nyad kept whispering to herself for 53 hours as she victoriously finished the swim from Cuba to Key West this Labor Day Weekend. This was Diana's fifth attempt over a span of 36 years to swim without a shark cage on the 110 mile journey from Cuba to Key West.
As a 64 year old journalist, author and long distance swimmer, she lives by an overarching theme she passionately shares with all of us:
"Never, ever, ever give up."
Attempts to swim this distance were previously thwarted when she was continually stung by deadly box jellyfish. What many may not know is that people die every year from the venomous stings of the box jellyfish. Swimming without a shark cage is also life threatening to say the least.
This time Diana wore a custom made silicon mask to keep the dangerous jellyfish off of her face, while also applying sting stopper cream. As she swam, she took in salt water, which made her continuously vomit. Throughout her swim, she also felt the open sores in her mouth and endured the pure pain and exhaustion of the entire death defying experience.
Hundreds of thrilled people cheered, clapped and cried as she approached the beach at Key West; completing a perilous journey that encompassed a lifetime of hard word, dedication, and the will to not give up. I cheered and also cried when I saw her red, swollen body emerge from the deep sapphire water.
In an interview Diana said, "All of us suffer heartache, losses and pain in this world. Always remember you're never too old to live your dreams."
At the Mindful Living Network, we did not share in Diana's physical journey through those perilous waters, but she became a beacon from a Divine lighthouse for all of us in the CommUNITY. As fellow proverbial swimmers, we all share in the perennial spiritual and emotional journey of suffering and loss that are woven into the fabric of life. She's living proof that when our dreams, goals or people we love bring defeat, despondency or unhappiness into our lives, all we have to do is to take a deep breath and whisper,
"Find a Way, Find a Way, Find a Way…"