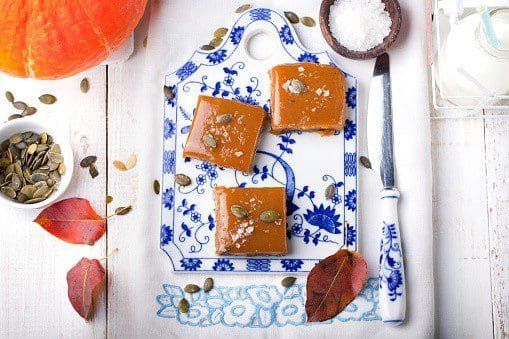 Now's the season for pumpkin-flavored everything! If pumpkin spice is your absolute favorite part of fall, you're going to love this gingerbread pumpkin bar recipe.
The Health Benefits of Pumpkins and Oats
One of the main ingredients of this pumpkin bar recipe is the pumpkin puree. There are many healthy pumpkin benefits. For instance, pumpkins are incredibly rich in vitamin A, which helps foster healthy vision and bone growth. They also have flavonoid poly-phenolic antioxidants, which are good for the body. This recipe also calls of oats, which is packed with dietary fiber that will help with your digestion and keep you feeling full longer.
Ready to get baking? Check out the recipe from Running with Spoons listed below.
Gingerbread Pumpkin Bars
(Recipe from Amanda at Running with Spoons)
Ingredients
For the crust
1 cup of oat flour
1/2 cup of old-fashioned oats
1/2 teaspoon of baking powder
1/4 teaspoon of salt
2 tablespoons of coconut oil, melted
1/4 cup of applesauce
3 tablespoons of molasses
For the filling
1 egg, lightly beaten
1 cup of canned pumpkin puree (NOT pumpkin pie filling)
1 teaspoon of vanilla extract
1/3 cup of brown sugar
1 1/2 teaspoon of ground ginger
1/4 teaspoon of ground cloves
1/4 teaspoon of ground nutmeg
Serving Options (Optional)
Whipped cream
Chopped walnuts
Chopped pecans
Pumpkin seeds
Directions
Preheat oven to 350ºF and line an 8×8-baking pan with non-stick aluminum foil, leaving a few inches of overhang on the sides to allow for easy removal. Set aside.
Make the crust. In a large mixing bowl, combine oat flour, oats, baking powder, and salt. Stir until fully combined. Add in coconut oil, applesauce, and molasses. Mix well and set aside.
Make the filling. In a small mixing bowl, lightly beat the egg. Add pumpkin, vanilla, sugar, vanilla, and spices. Mix until fully incorporated and set aside.
Using a spatula or your fingers, firmly press the crust dough into the bottom of your square pan, making sure it is evenly distributed.
Pour the pumpkin filling over the crust, spreading evenly.
Bake for 30 minutes, or until pumpkin has set.
Remove from oven and let cool completely before cutting into bars.
Serving options. When serving, add a little whipped cream onto your pumpkin bars and sprinkle chopped nuts and pumpkin seeds on top. The combination of the smooth bar and the crunchy toppings is delicious.
Bonus. Looking for other pumpkin flavored treats? How about pumpkin spice oat balls or pumpkin bread? They'll give you energy and they taste delicious. Looking for a sweeter pumpkin treat? Try these pumpkin spice cookies. They taste yummy on their own or you can top them with icing.