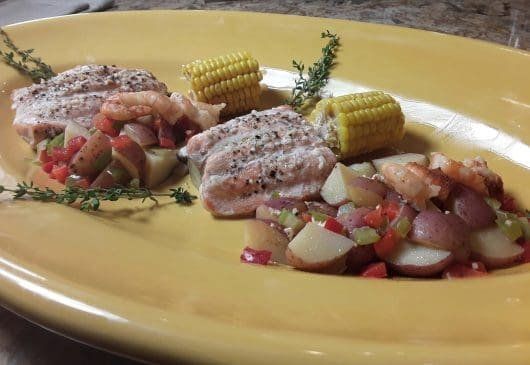 Chef Kendrick Dopp has a great summer recipe for you. It's a yummy and healthy cajun grilled salmon dish you can do on the grill. It's a perfect dinner for a summer day!
Salmon, if you didn't know, is very good for you because of its excellent source of high-quality protein, vitamins and minerals  like potassium, selenium and vitamin B12. It is also rich in long-chain omega-3 fatty acids, which have been shown to reduce inflammation, lower blood pressure and decrease risk factors for disease.
Cajun Grilled Salmon Recipe
Ingredients:
3 cups (20+ oz) red potato wedges
2  salmon fillets (6 ounces each), halved
 3/4 pound uncooked shrimp (31-40 per pound), peeled and deveined
2 medium ears sweet corn, halved
1 cup mixed red and green bell peppers, diced
1 small clove garlic, minced or shallot minced
2 tablespoons olive oil
1/8 tsp cayenne red pepper
1/4 tsp paprika
1/4 tsp pepper
1/2 tsp pepper
1/4 tsp celery seed
2 green onions thinly chopped
1 medium lemon, cut into 4 wedges
chopped parsley to garnish
Directions:
Divide potatoes, salmon, shrimp, red and green peppers, garlic or shallot, and corn among four pieces of heavy-duty foil (about 18×12-inch rectangles).
In separate small bowl, combine all powdered seasonings.
Sprinkle dry seasonings all over each of the four pieces in foil.
Drizzle olive oil over the season mixture.
Squeeze lemon juice over top; place squeezed wedges in packets.
Fold foil around mixture, sealing tightly.
Grill, covered, over medium heat 12-15 minutes or until the grilled salmon just begins to flake easily with a fork, shrimp turn pink and potatoes are tender.
Open foil carefully to allow steam to escape.
Divide green onions into four parts and top each with with the onions and chopped fresh parsley.
Serve immediately.
See More Cooking for Love:
To see more Cooking for Love video recipes, check out our YouTube channel or view them here on our site.