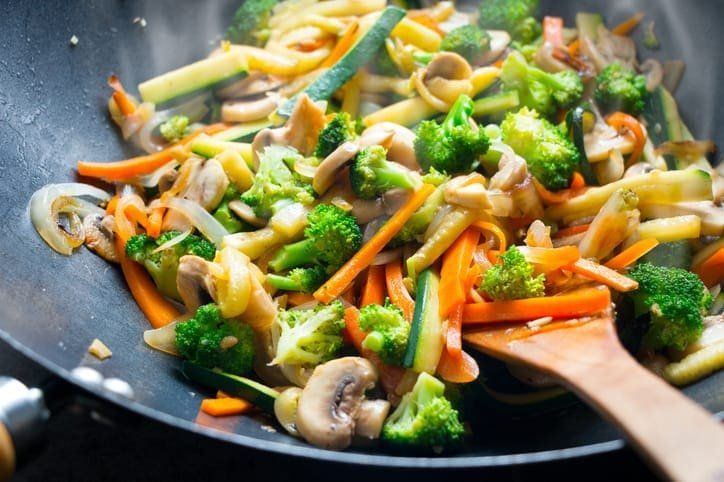 This is a quick, simple heart healthy stir fry recipe filled with delicious veggies and protein. Broccoli has shown to reduce your risk of cancer, along with many of the other veggies, and the other ingredients are loaded with vitamins, minerals, and a big dose of antioxidants.
Ingredients
Sauce
1/4 cup soy sauce
1 tablespoon lemon juice
1 tablespoon honey
1 tablespoon sesame oil
1 tablespoon rice wine vinegar
1/2 teaspoon red pepper flakes
1 lb. or 1 bag (chicken) meat substitute strips (grocery freezer department)
Stir Fry Ingredients
2 tablespoons olive oil
3 cloves garlic, minced
3 large carrots, peeled and julienned
1 large red bell pepper, julienned
1 large yellow bell pepper, julienned
1 large onion, sliced thin strips
8 ounces button mushrooms, sliced thinly
2 cups broccoli florets
1 tablespoon cornstarch or arrowroot powder
4 cups cooked brown rice/ or rice noodles
toasted sesame seeds
Instructions
In a bowl, whisk together the soy sauce, lemon juice, honey, sesame oil, rice wine vinegar, and red pepper flakes.
Add in the meat substitute chicken strips, and then toss to coat. Let marinate in the fridge while you chop your vegetables.
Add the olive oil into your pan or wok.
Add the garlic into the heated pan or wok. Cook for a few minutes.
Add in the (meat substitute) chicken, carrots, broccoli, bell peppers, onions and mushrooms.
Cook until bright in color and just crisp cooked. Reduce to low heat.
Take out 1 tablespoon of liquid marinade, put in small bowl and whisk the cornstarch into the reserved marinade, and then pour it back into the pan or wok.
Bring to a simmer and cook until thick, about five minutes.
Serve the stir fry on top of brown rice, or rice noodles. You may want to top with additional toasted sesame seeds.