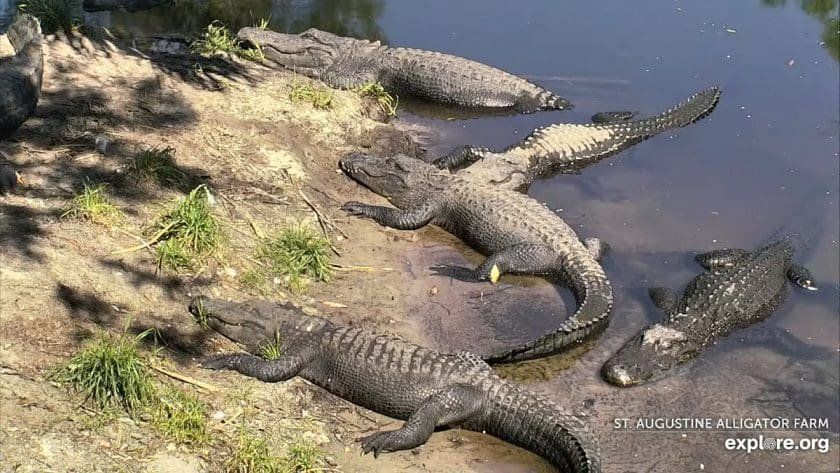 This live alligator swamp cam overlooks the swamp at St. Augustine's Alligator Farm Zoological Park in Florida, where native herons, egrets, roseate spoonbills, and wood storks seek the security of the swamp to roost and raise their young. With hundreds of alligators swimming beneath the oak branches, the resident birds know their young are safe from tree-climbing predators such as raccoons, opossums, and feral cats.
The St. Augustine Alligator Farm Zoological Park began as a small exhibition of Florida reptiles in the late nineteenth century. Despite its name, St. Augustine does not farm alligators or any other animals; it functions as a modern zoo serving the public and the scientific community with educational shows and exhibits, research, and worldwide conservation efforts. This quintessential Florida attraction, which has been accredited by the American Association of Zoos and Aquariums since 1989, includes an alligator lagoon, crocodile crossing and a thrilling zip-line between them
Best Times to Watch the Live Alligator Swamp Cam
The cam is on 24 hours a day so keep an eye out for alligators basking in the sun. Also, tune in for feeding demonstrations at 12pm and 3pm EST.
Learn More About Explore.org
EXPLORE is the largest live nature cam network on the planet. Their goal is bring nature to you, raw, unscripted, and unedited. Enjoy the natural world as it unfolds in real time in front of our cameras. EXPLORE.org takes you from Kenya, Africa to the riverbanks of Katmai, Alaska and everywhere in between.

Mindful Living Network is proud to feature many of EXPLORE's amazing cams here on our site. You can check out all of EXPLORE's live cams and highlight reels on this section of their website. EXPLORE's mission is to champion the selfless acts of others, create a portal into the soul of humanity and inspire lifelong learning. That sounds pretty good to us! If you'd like, you can learn more about EXPLORE on their website, www.explore.org