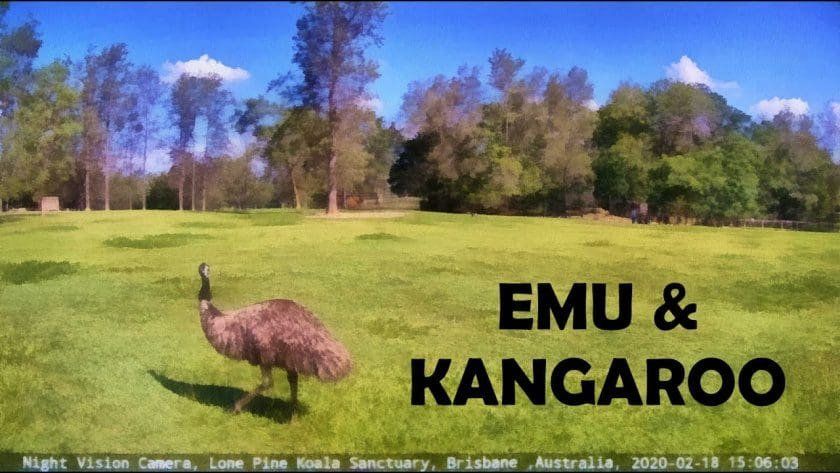 Check out this amazing cam that shows a view of a 5-hectare (12.5 acre) free-range Kangaroo Habitat in Queensland, Australian.
Kangaroos are naturally calm, docile animals, and these boys are gentle giants. The majority of the larger males have their own area of the reserve to help maintain balance within the social dynamic of the group, and also to assist in managing population numbers. Kangaroos are prolific breeders, and if the kangaroos living situation is not controlled, it wouldn't take long for the population to increase beyond the capacity that is manageable by Lone Pine Koala Sanctuary
As a crepuscular species (which means most active early morning and late afternoon), kangaroos like to relax under the trees during the middle of the day. They also always have access to people-free rest areas.
Video stream by Lone Pine Koala Sanctuary
What Animals Might I See Here?
This Kangaroo Habitat is home to four macropod species: red kangaroos, eastern-grey kangaroos, swamp wallabies, and red-necked wallabies. In addition to kangaroos and wallabies, the Kangaroo Habitat is also home to three friendly emus, Crystal, Bailey and Big Girl.
In addition to kangaroos and wallabies, you might also catch a glimpse of some raptors such as owls and eagles on this camera as their keepers bring them own to the free-flight area near the lake, especially during their daily training times at 10:30am and 12:30pm (Australian Eastern Standard Time). The reserve is camera-monitored to ensure all visitors are gentle with the wildlife.
Want to help? Sponsor a kangaroo (or koala!)
To find out how you can help support one of our special boy kangaroos, Mr. Miyagi, and all of the animals at Lone Pine as an Animal Sponsor, visit our website at https://koala.net/animal-sponsorships
About Lone Pine Koala Sanctuary
Located in Queensland, Australia Lone Pine Koala Sanctuary opened in 1927 as a safe refuge for orphaned, injured, or displaced koalas as a result of the Australian fur trade. Our founder, Claude Reid, recognized that something had to be done to protect this iconic species during the fur trade.
After operating for over 90 years, Lone Pine has since evolved into a destination for local and international guests to make connections with native Australian animals in a natural, and relaxed setting. Our aim is for guests to leave our grounds feeling inspired to make small, positive changes in their daily lives to protect their own native wildlife and habitats.

You can learn more on their Youtube Channel or website.