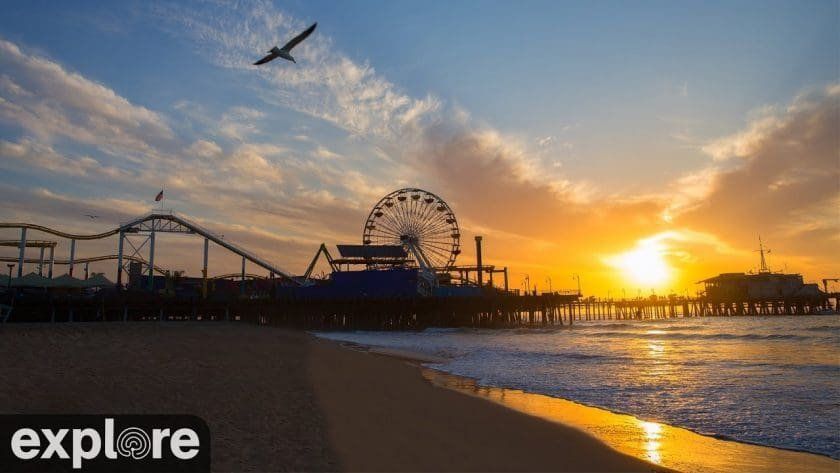 The Santa Monica Beach and Pier camera shows beautiful views of the bay, the bustling pier, and the vast Pacific Ocean. On a clear day, you can see all the way past Malibu to Point Mugu. Known for its sunshine, beaches, surf culture, and palm trees, Santa Monica also boasts the world famous Santa Monica pier, the first concrete pier built on the west coast.
The Santa Monica Pier is a 1,600 ft. concrete walkway extending into the ocean. Occupied by restaurants, shops, an aquarium as well as fishermen and street performers, the pier draws over four million visitors every year.
Keep watching as the live beach cam pans from the sandy beaches of Malibu and the Santa Monica Mountains behind them, all the way to the Santa Monica pier, the gorgeous blue-green waters of the Pacific as a backdrop. You'll also get some up-close as well as far-away views of the pier's own amusement park, which was added in the late nineties.
Best Times to Watch:
In the evenings you'll see some amazing, colored lights from the pier's large Ferris Wheel. There's a spectacular sunset each evening around dusk, and the morning sunrise casting light on the pier is equally breathtaking. During the day while the cam pans you can see the goings-on at the beach, so pretty much any time you check out the cam you're bound to see something interesting.
Learn More About Explore.org
EXPLORE is the largest live nature cam network on the planet. Their goal is bring nature to you, raw, unscripted, and unedited. Enjoy the natural world as it unfolds in real time in front of our cameras. EXPLORE.org takes you from Kenya, Africa to the riverbanks of Katmai, Alaska and everywhere in between.

Mindful Living Network is proud to feature many of EXPLORE's amazing cams here on our site. You can check out all of EXPLORE's live cams and highlight reels on this section of their website. EXPLORE's mission is to champion the selfless acts of others, create a portal into the soul of humanity and inspire lifelong learning. That sounds pretty good to us! If you'd like, you can learn more about EXPLORE on their website, www.explore.org