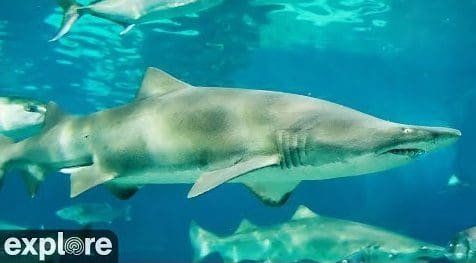 If you want to get up close and personal with sharks, look no further! This live underwater cam is beneath the Frying Pan Tower, 34 miles off the coast of Cape Fear, North Carolina. The tower was built in the 1960s to warn ships of the shallow waters nearby, and while GPS navigation technology means this tower is no longer used for its original purpose, it's an important habitat for sharks, fish, and other marine wildlife.
Although sharks are often characterized as ferocious man-eating animals, there are very few shark attacks on humans each year. In fact, humans kill millions of sharks each year, both on purpose and as an accidental bycatch from fishing operations, which is a much larger number than the number of shark attacks on humans in a single year.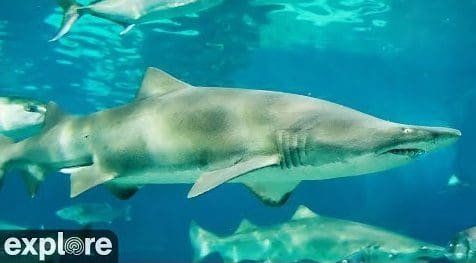 Best Times to Watch
The "Sharks of the Atlantic" cam is on 24 hours a day, however it is sometimes hard to see when it is dark.
What sharks or other marine life will I see?
One of the most commonly sighted shark species at the Frying Pan Tower is the sand tiger shark. You might also see nurse sharks, sandbar sharks, and stingrays.
Learn More About Explore.org
EXPLORE is the largest live nature cam network on the planet. Their goal is bring nature to you, raw, unscripted, and unedited. Enjoy the natural world as it unfolds in real time in front of our cameras. EXPLORE.org takes you from Kenya, Africa to the riverbanks of Katmai, Alaska and everywhere in between.

Mindful Living Network is proud to feature many of EXPLORE's amazing cams here on our site. You can check out all of EXPLORE's live cams and highlight reels on this section of their website. EXPLORE's mission is to champion the selfless acts of others, create a portal into the soul of humanity and inspire lifelong learning. That sounds pretty good to us! If you'd like, you can learn more about EXPLORE on their website, www.explore.org