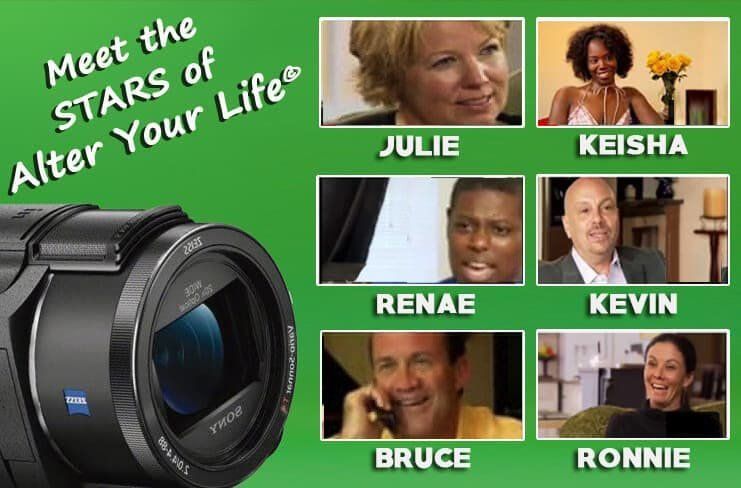 Meet the stars of Alter Your Life reality series! This is Reality TV as you've never seen it.  Watch and learn as the stars Ronnie, Renae, Keisha, Bruce, Julie and Kevin reveal personal challenges on their journey to restore their lives. Guided by Dr. Kathleen Hall, our cast of six will transform from the inside out as they put the Alter Your Life® principles into practice in this original series from Mindful Living Network®. This is Reality TV as you've never seen it. Once you met the stars of Alter Your Life, start to watch all our Alter Your Life episodes one by one starting from the beginning, Episode 1 Part 1.
BRUCE PATTERSON
Age: 54
Status: Single
Profession: Retired restaurateur, founder of 'Save a Smile' charitable foundation
A millionaire before 40, Bruce's life has been abundant – financially, socially, and materially. So what does he have to complain about? Money can't buy happiness. Bruce is scared, but gutsy and willing to take the risk to find a new passion in life. Realizing he's been given many gifts – he's looking to share those with people who have nothing to give in return. Will Bruce come up empty handed, while looking for new meaning in his life?
RENAE CRAWFORD
Age: 26
Status: Single, helping her girlfriend raise two children
Profession: Law Enforcement at a maximum security prison, working on her degree
Stress: Insomnia. Working in a Prison. Balancing home life.
Renae is the source of strength for her family. There are kids, jobs, school and siblings all demanding her help. It's stressful, but she's tough. She has grown tough from judgment as a lesbian at age 17, and from working in a maximum security prison. Her same hardened exterior keeps her real passion for music and song writing locked inside. Uncertain of how she will cope with her mounting stress, including the recent death of her grandmother Renae is seeking guidance. Will Renae find ways to cope with life, and free herself from the burdens that keep her from following her dreams?

KEISHA SCOTT
Age: 32
Status: Single
Profession: Unemployed as a result of a recent layoff
Stress: Depression. Mounting Debt. Unemployed
Keisha is strong and together on the outside and crumbling on the inside. Filled with feelings of abandonment and inadequacy, Keisha always comes up short. Even after losing 140 pounds, she still feels the weight of her problems – financial, professional and emotional. Can Keisha shed her parents and now her own imposed shortcoming and begin living again?
JULIE EHMANN
Age: 48
Status: Divorced, living with boyfriend and blended family of 6 kids and 2 grandkids
Profession: VP Operations for a commercial development company
Stress: Keeping it all together while letting go of control
Julie is a successful Vice President whose knack for perfection and success at work doesn't translate well to her home and blended family of 6 kids, 2 grandkids and boyfriend. Despite her attempts to control it all, she is afraid of demanding too much of her kids and failing herself again. Entrusted with kids, a company, and finances, Julie fears the stress may kill her, as it did her mother 8 years ago. Can Julie alter her life so she can let go of power and grow old with the love she has waited so long for?
RONNIE KIHLSTADIUS
Age: 38
Relationship: Separated
Profession: Currently working on her MBA so she can enter the workforce
Stress: Afraid of the future. Providing financially and emotionally for her kids. Managing the work load
Ronnie is facing a complete 180. Her entire adult life she has been taken care of. Now separated after a 17-year marriage, but still living under the same roof, she is on an uncharted path to independence. With an impending divorce, becoming a single mom of two active kids, working on an MBA, and planning a new job, she is overwhelmed with responsibility. Can Ronnie find the security she needs to make it on her own without losing her sanity?

KEVIN LIGON
Age: 49
Status: Single
Profession: Business owner, marketing consultant
Stress: Financial – making ends meet. Intimacy
Kevin is starting over, again, after his mom passed away one year ago. A reoccurring theme in his life, Kevin has started over often – personally moving around as a kid, and in-and-out of gay relationships as an adult – and professionally starting up new companies. He has been floating around, just existing and afraid to jump all into life. That requires being invested, emotionally and financially. Will Kevin learn how to stop going through the motions – and become engaged in his life, even at the risk of getting hurt?
---
Alter Your Life was filmed on location at Oak Haven® The Center for Mindful Living®. We invite you to learn more about Dr. Kathleen Hall, the fearless leader and mindful living expert who guides our cast in their transformation.