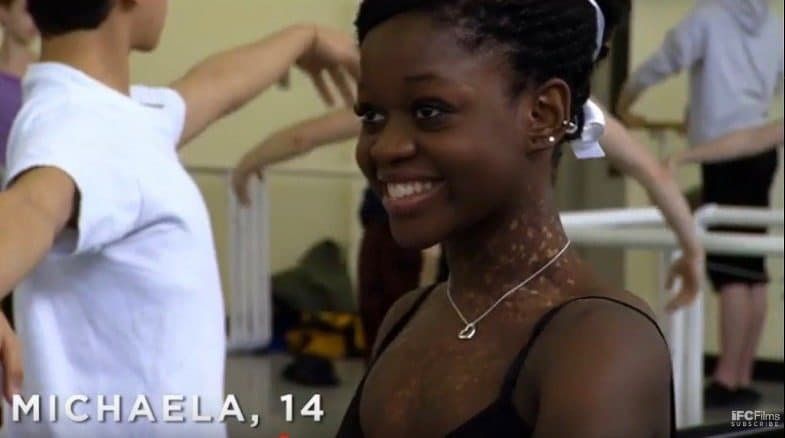 First Position is an awarded documentary film following six dancers (ages 9 to 19) as they compete in the Youth America Grand Prix. One of the dancers is Michaela DePrince, a girl who was once an orphan who and is now fighting to fulfilling her ballet dreams.
At the age of three, Michaela DePrince of war-torn Sierra Leone had lost her parents. As an orphan other people taunted Michaela, calling her the "devil child" due to a skin condition that covered her chest and neck with white freckles. The little girl found solace in a picture of a ballerina. So when Elaine DePrince adopted her and brought her to America, Michaela asked for ballet lessons. Unfortunately, her battle with adversity was just beginning.
Even today, American ballet companies are lacking diversity.
The New York Times says that while other minorities have made some advancement, "the complicated reality of racial inequality persists, especially for black women." Some African American ballerinas have beaten the odds, like Misty Copeland and Lauren Anderson, but not nearly enough.
Virginia Johnson, the artistic director of the Dance Theatre of Harlem, describes four complex factors that affect American ballet's diversity. One of the factors Johnson includes is the reluctance of some experts in the field. She says that some "have become obsessed with a single body-type that is presumed to be predicated by race." But Johnson explains that "excellence is a human capacity unrestricted by ethnicity."
DePrince is proof of this fact. She's now 17-years-old, with an A average, and finishing her last year at the prestigious Jacqueline Kennedy Onassis School of American Ballet Theatre. It hasn't been easy. Because of her dark skin, DePrince stands out on stage, which has made some dance companies hesitant to sign her. DePrince tells NY Post, "Sometimes I feel like they seem to really enjoy my performance, yet they won't take me because I look different."
This hasn't stopped Michaela though. She competed in the Youth America Grand Prix, the world's largest ballet scholarship competition. In April 2012, she guest-starred on the TV show "Dancing with the Stars." And, in August, she'll join the Dance Theatre of Harlem.
Want to watch First Position or learn about the other inspiring featured dancers? Please visit their website.
Main photo credit: Screenshot / YouTube