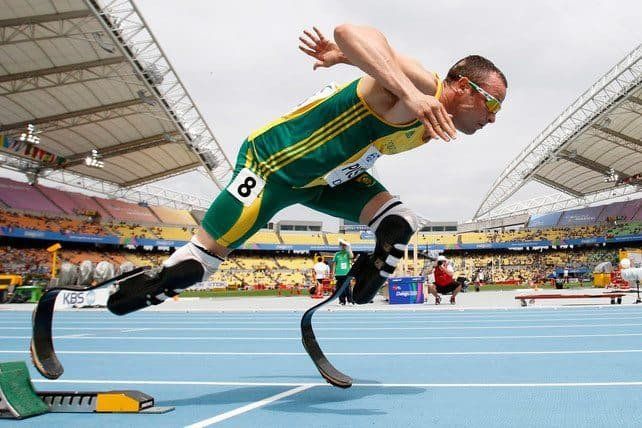 The Olympic games have inspired heartwarming stories such as the Saudi Arabian female athletes and Olympic champion Gabrielle Douglas. One athlete that continues to amaze the world is Oscar Pistorius, known as "the Fastest Man on No Legs."
A native of Johannesburg, South Africa, this sprint runner was born in 1986 without the fibula (a bone that is located between the knee joint and the ankle) in each of his legs. Before he was one year old, both of his lower legs were amputated. By the time he was a year and a half, he learned to walk. Over the years his enthusiasm for sports grew and he participated in sports like rugby, cricket and wrestling.
Tragedy struck in 2003 when he shattered his knee in a rugby game. Fortunately, for his rehabilitation Pistorius turned to another sport: track. He had to learn to run differently than abled-bodied athletes, using his arms and core muscles more. He was soon equipped with a pair of Flex-Foot Cheetahs, a carbon fiber prosthetic feet, and competed in the 2004 Paralympics in Athens where he won the bronze medal in the Men's 100m and gold in the Men's 200m.
In 2007, Pistorius set his sights higher. He tried to compete in the 2008 Olympics in Beijing. He was refused by the International Association of Athletic Federations (IAAF) because they alleged his prostheses gave him an unfair advantage. However, he was successfully able to challenge the ruling and as a result, Pistorius went on to compete in the 2008 Paralympics. He won the gold medal in the Men's 100m, 200m and 400m and later he qualified for the 2012 Olympics.
Now Pistorius, also known as the Blade Runner, became the first double amputee to compete in the Olympics. He came in second in the first round of the Men's 400m, but came in 8th place during the semifinal. He competed in Men's 4 x 400m relay final, but the team came in 8th place. However, this hasn't dampened his spirit. Just a few weeks after competing in the Olympics, Oscar Pistorius competed in the 2012 Paralympics. While he didn't medal athere, his determination is an inspiration for all athletes and he has truly earned his place in Olympic history.