Here's a always-on view of the panda cam in Wolong Grove in Shenshuping Gengda Panda Center in China's Wolong Valley. As you can usually see, the panda yard is filled with bamboo-, which results in some very happy pandas.
Shenshuping Gengda Panda Center's provides views into 11 different panda yards. Watch as these giant pandas go about their day in this lush bamboo oasis.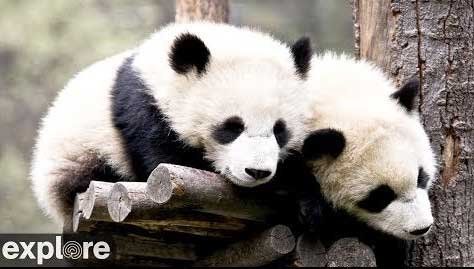 Best Times to Watch the Panda Cam
The Panda Cam in is on 24 hours a day, so anytime is a great time to watch!
Panda Partners
China Conservation & Research Center for the Giant Panda conducts research on panda ecology and population dynamics. The organization is responsible for artificial breeding, genetics, disease prevention, conservation training and release of giant pandas from captivity. The Research Center also assists in the development of cooperation between other panda organizations in China and abroad. You can view their website to learn more.
Learn More About Explore.org
EXPLORE is the largest live nature cam network on the planet. Their goal is bring nature to you, raw, unscripted, and unedited. Enjoy the natural world as it unfolds in real time in front of our cameras. EXPLORE.org takes you from Kenya, Africa to the riverbanks of Katmai, Alaska and everywhere in between.

Mindful Living Network is proud to feature many of EXPLORE's amazing cams here on our site. You can check out all of EXPLORE's live cams and highlight reels on this section of their website. EXPLORE's mission is to champion the selfless acts of others, create a portal into the soul of humanity and inspire lifelong learning. That sounds pretty good to us! If you'd like, you can learn more about EXPLORE on their website, www.explore.org