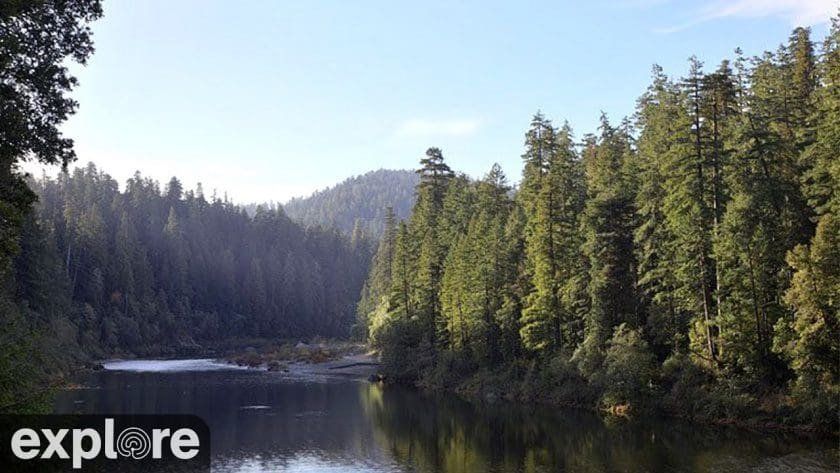 Welcome to the live view of the Redwood Forest River in California's Jedediah Smith Redwoods State Park. Here you'll be surrounded by some of the tallest trees on the planet. As this live cam pans along the Smith River, keep an eye out for river otters and bald eagles… and the occasional angler and kayaker, too!
Save The Redwoods League
Save the Redwoods League envisions vibrant redwood forests of the scale and grandeur that once graced the California coast and the Sierra Nevada, protected forever, restored to grow old again, and connected to people through a network of magnificent parks and protected areas that inspire all of us with the beauty and power of nature.
By collaborating with local partners and communities like Smith River Alliance, landowners, public agencies, and our members and supporters, we can make transformative landscape-scale change that will:
Reassemble vibrant redwood forests on a transformative scale that connects groves with their surrounding environment through strategic land acquisitions and landowner agreements.
Accelerate the recovery of second-growth forests with deliberate, science-based forest management, nurturing a self-sustaining ancient coast redwood range for the future.
Increase the sequestration of carbon to mitigate climate change, and provide resilient refuges for diverse plant and animal life through the restoration of the coast redwood range
Enhance recovering forests by thinning to encourage growth, decommissioning roads to protect streams and reconnect habitats, reducing fuel loads to enhance fire resilience, and reintroduce natural disturbance regimes to recreate natural systems and accelerate the transition to old-growth forest form and function.
Lead the reimagining of our redwood parks to prepare for a new generation of visitors and future park stewards, and to connect people to the peace and beauty of redwoods through extraordinary experiences that inspire a lifetime of love and reverence for the natural world.
Thanks to our generous partner, Smith River Alliance, for hosting the site of our redwood webcam.
Want to learn more? Check out their website.
Learn More About Explore.org
EXPLORE is the largest live nature cam network on the planet. Their goal is bring nature to you, raw, unscripted, and unedited. Enjoy the natural world as it unfolds in real time in front of our cameras. EXPLORE.org takes you from Kenya, Africa to the riverbanks of Katmai, Alaska and everywhere in between.

Mindful Living Network is proud to feature many of EXPLORE's amazing cams here on our site. You can check out all of EXPLORE's live cams and highlight reels on this section of their website. EXPLORE's mission is to champion the selfless acts of others, create a portal into the soul of humanity and inspire lifelong learning. That sounds pretty good to us! If you'd like, you can learn more about EXPLORE on their website, www.explore.org