You don't need a lot of money to have a romantic evening with your loved one. With the right Mindful Money tips, you can celebrate Valentine's Day on a budget.
According to the National Retail Federation, 54 percent of Americans will be celebrating Valentine's Day. While the main event is usually a romantic celebration with a romantic partner, Valentine's Day is a day for all types of love. Many people will be spending money on family members (such as children or parents), friends, coworkers, and even pets.
Whether it's their romantic partner or their friends, people typically spend extra money to ensure that Valentine's Day is really special. Americans will be spending $18.2 billion on Valentine's Day this year, with the average consumer devoting $136.57 to their Valentine's Day celebration. Unfortunately, people on tight budgets don't have extra money to spend on one day, and that's why the money tips listed below are so helpful.
3 Tips for Celebrating Valentine's Day on a Budget
Rethink your romantic dinner.

On Valentine's Day, Americans will be spending $3.8 billion on an evening out—this includes things like dinner, movie tickets, and other date night activities. One of the simplest ways to save money on Valentine's Day is to plan a romantic evening in. You can set up a romantic fort in your living room or you can have a candle-lit meal in front of the fireplace or a picnic in your backyard if the weather permits.
Make your own sweet treats.

Skip the gourmet This year $1.7 billion will be spent on candy for Valentine's Day. You can save money by making your own romantic treats at home. Chocolate-covered strawberries are always a fan favorite and they're easy to make. Or you can try frozen bananas dipped in chocolate. You can also make homemade cream puffs—your partner will be super impressed.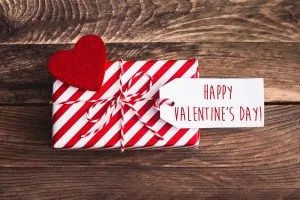 Opt out of bejeweled gifts.

Jewelry is usually the staple of Valentine's Day gifts. Consumers typically spend $4.3 billion on jewelry for Valentine's Day. Instead of spending hundreds if not thousands on jewelry consider a romantic alternative. You can create a personalized Valentine's Day package for your partner filled with their favorites treats and romantic trinkets. Or consider one of these sweet ideas.