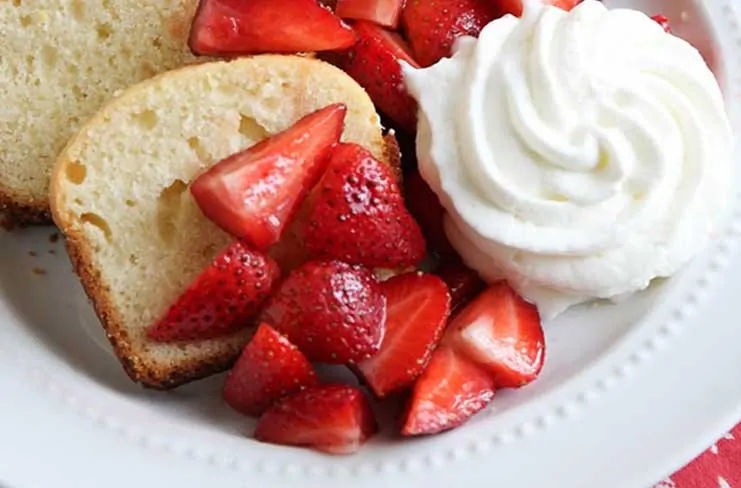 Summer is a great time for cookouts, but anytime is a good time for cake… So, if you find yourself invited to a party and in charge of bringing desserts, try this quick and easy pound cake that is sure to be a crowd pleaser.  It's time to give the apple pie a break and spend less time in the kitchen and more time enjoying the sunny weather!
Bring This Vanilla Pound Cake to Your Next Cookout!
Ingredients:
12 ounces (3 sticks) unsalted softened room temperature butter
1 ½ cups granulated sugar
6 large eggs
1 teaspoon Vanilla Extract
2 cups all-purpose flour
1 teaspoon salt
Directions:
Preheat the oven to 350 degrees.
Grease a large loaf pan and set aside.
In a mixing bowl with a paddle attachment, beat the butter and the sugar until light and fluffy for about 3 minutes.
Make sure to scrape down the sides of the bowl.  Add the eggs one at a time, making sure not to add the next one until the previous one is incorporated.  Then add the vanilla extract.  Add the flour and the salt on low speed and mix just until combined, making sure not to over mix.  Take the batter off of the mixer and finish by hand with a rubber spatula.
Place the batter in the prepared loaf pan and smooth the top with an offset spatula.
Bake until the cake is a golden brown and when tested in the center of the cake, the tester comes out clean, which should take about an hour.
Let the cake cool in the pan for about 15 minutes, then turn it out and allow it to cool.  Cake can be wrapped and kept at room temperature for about 3 days.
Serving Ideas:
Serve the pound cake dusted with confectioners' sugar and summer berries.
Add lemon curd or lemon zest for extra zing in sweetened whipped cream.  Brush the cake with lemon syrup and garnish with candied lemon zest.
The cake can be sliced and placed on platters with the berries and whipped cream for a self-serve dessert, or plated individually and dusted with more confectioners' sugar.