What's cuter then an adorable polar bear cub? Try TWO adorable polar bear cubs! Double the cuteness! Welcome to the Ouwehand Zoo's tundra exhibit in Rehen, Netherlands and get ready to meet the "family".
This live cam overlooks the tundra exhibit at the Ouwehand Zoo in Rehen, Netherlands. Get ready to watch the adorable polar bear cubs play under the watchful eye of their mother, Freedom, and grandmother, Huggies. The cubs, named Akiak (Inuit for "brave") and Sura (Inuit for "new life") were born in November 2014.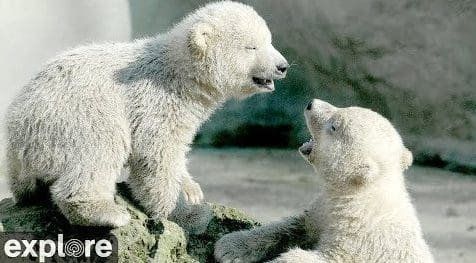 In the Inuit language, polar bears are referred to as "nanuk" or "pihoqahiak", which translates to "an animal of great respect" or "the wandering one." "Tornassuk" is the name for polar bears in Greenland. It means "master of helping spirits".
Video stream by EXPLORE and Polar Bears International
About Polar Bears International
Made up of a small group of passionate conservationists, scientists, and volunteers­­, Polar Bears International (PBI) exists to help secure a future for polar bears across the Arctic.
PBI's commitment to innovation, science, and technology fuels their day-to-day, but their hope sustains their vision. They persevere through the organization's inherent optimism. Collaborative by trait, they push to move beyond borders, silos, and bottom lines to prove the phenomenal impact we can have together as a global community. Learn more on their website.
Best Times to Watch
The polar bear cam is on 24 hours a day. Daylight time is best to view the polar bears.
Learn More About Explore.org
EXPLORE is the largest live nature cam network on the planet. Their goal is bring nature to you, raw, unscripted, and unedited. Enjoy the natural world as it unfolds in real time in front of our cameras. EXPLORE.org takes you from Kenya, Africa to the riverbanks of Katmai, Alaska and everywhere in between.

Mindful Living Network is proud to feature many of EXPLORE's amazing cams here on our site. You can check out all of EXPLORE's live cams and highlight reels on this section of their website. EXPLORE's mission is to champion the selfless acts of others, create a portal into the soul of humanity and inspire lifelong learning. That sounds pretty good to us! If you'd like, you can learn more about EXPLORE on their website, www.explore.org