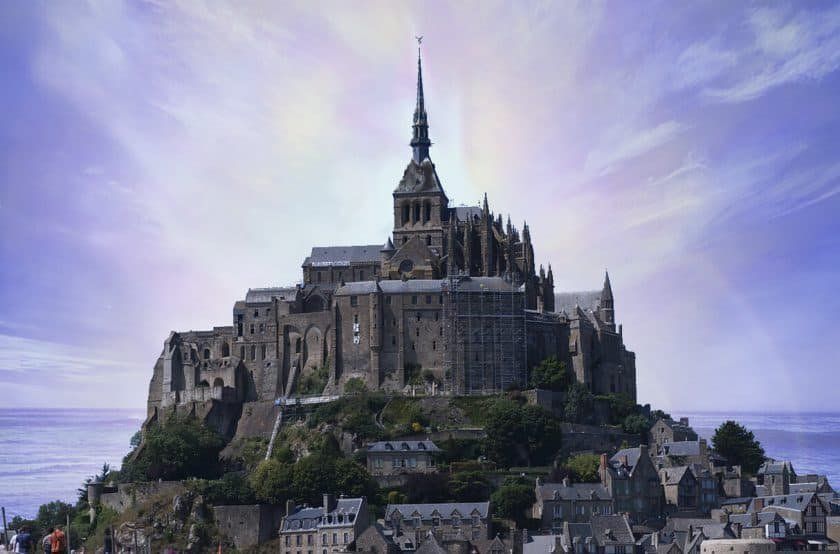 What are the ten best places to visit in France? We're going to do one better than just tell you, we're going to show you as well!  With more than 8 million tourists visit France every year, France has become one of the world's most popular travel destinations.   France boasts a gorgeously diverse landscape that inspires poets, writers, and artists from all decades. It goes without saying that most people immediately picture Paris when they think of France. Not to downplay the Eiffel Tower, but there's a lot more to see around the country than just one city.
For example, one historical must-see is the D-Day landing beaches in Normandy. You could visit the Loire Valley for castles and vineyards, or Brittany for its Celtic roots. Not your cup of tea? For wine connoisseurs, there's the world famous Bordeaux region.  There are also the French Alps, containing Europe's highest peak, Mont Blanc, perfect for adventure seekers. Or, in the south, there's the endless beauty and charm of the French Riviera, including Saint-Tropez.
So if you're getting ready to bask in the sophisticated culture, green countryside, sparkling coastline, exquisite cuisine, and dazzling French landmarks, you'll want to get your pen and paper ready now and take down the names of at least a few of these places.  Without further adieu here's a great list of the best places to visit in France, compliments of Touropia.
Best places to visit in France:
Marseille
One of Europe's oldest cities and France's second largest city, Marseille is a major Mediterranean seaport located off the southeast coast of France.
Lyon
Located in east-central France, Lyon is the capital of the Rhone department in the Rhone-Alpes region. Boasting a long history, Lyon today is the third largest city in France, known for its historic architecture, gastronomy and vibrant cultural scene.
Strasbourg
Besides being the seat of the ean Parliament and numerous other important European institutions, Strasbourgs' historic center, Grande Île, is what makes Strasbourg one of the best places to visit in France. It features museums, shops, cafes and striking attractions such as the stunning Gothic cathedral, which features intricate carvings and a 300-year old working, astrological clock.
Loire Valley
The Loire Valley is a popular tourist attraction in the center of France, regarded for its spectacular scenery, splendid chateaux, picturesque vineyards and historic villages.
Bordeaux
Built upon the River Garonne just half an hour inland of the Atlantic Ocean, Bordeaux is a major port city stuffed with fine architecture, historic sites, exceptional shopping and a world-class arts and culture scene. Bordeaux's city center, features more than 350 historic structures and landmarks.
Luberon
A haven for French society, Luberon boasts lush forests, fields of lavender, farmers markets and colorfully painted houses. Make sure to get a piece of pottery from the village of Oppede le Vieux that still maintains its Middle Ages ambiance for a souvenir.
Mont Saint-Michel
The rocky island of Mont Saint-Michel is one of the most popular places to visit in France as a result of its construction of medieval structures built as if stacked upon one another and crowned with the star attraction, the Abbey of Mont Saint-Michel. Built by devoted monks in 708 AD after the Bishop of Avranches was allegedly visited by the Archangel Michael, this is one stop you won't want to
Dordogne
Containing picture-postcard villages and chateaus, including the well-preserved Chateau de Baynac, a hilltop castle, Dordogne also has some of the best prehistoric cave art in France.
French Riviera
The French Riviera is famous for the glamour of St. Tropez, Monaco as well as the Cannes Film Festival. It also offers the perched villages of Eze and Saint-Paul de Vence, and the perfumeries of Grasse. And who doesn't love s a mild to warm climate all year round.
Paris
You can't really have a "best places to visit in France" without naming Paris. With more than 45 million visitors annually, Paris is the world's most popular tourist destination. Known for its romantic ambiance and command in industries like business, entertainment, gastronomy, fashion and art and culture it also houses iconic landmarks like the Eiffel Tower, Arc de Triomphe, Notre Dame Cathedral and the Louvre Museum.
Want to see more like this? See more Mindful Living Around the World videos by clicking here, or check out all our video categories on our video page, or under the Mindful Living TV link in the navigation bar towards the top of this page.