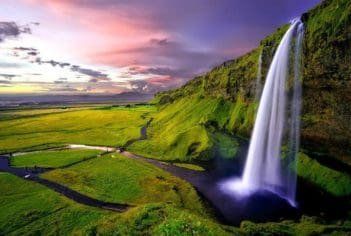 Planning a visit to Iceland? Take a look inside Rick Steves "Iceland Guidebook" to find great ideas and information for exploring Iceland. Whether you've got a long layover in Reykjavík or two weeks to check out the whole country, this guide book is your one-stop-shop.
Learn Rick's picks for sights, eating, sleeping while in Iceland. You'll get tips and advice on how to get the most out of your time and money, with rankings of Rick's must-see favorites. The Iceland Guidebook also contains great driving tours, town walks and stopover itineraries for travelers on a tight schedule with easy-to-read maps. You'll also learn Rick's recommended itineraries for Iceland visits of 10 days, 4–8 days, and 24 hours.
You'll also learn about Icelandic history, culture, language, and cuisine. The Iceland Guidebook even contains handy Icelandic survival phrases and a pronunciation guide for places. If this sounds like something you need on your bookshelf, you can purchase it for around $20 on Rick's store website.
About Rick Steves
Rick Steves is a respected authority on European travel. He writes European travel guidebooks and hosts travel shows on public television and public radio in the United States.  In 1976, he started his business, Rick Steves' Europe, headquartered in Edmonds, Washington. He  produces a best-selling guidebook series as well as a popular public television show. Rick also hosts also has a weekly public radio show and a syndicated travel column. He offers free travel information available through his travel center and ricksteves.com. Rick Steves' Europe also runs a successful small-group tour program taking 30,000 travelers to Europe annually. You can learn more about him on his website.