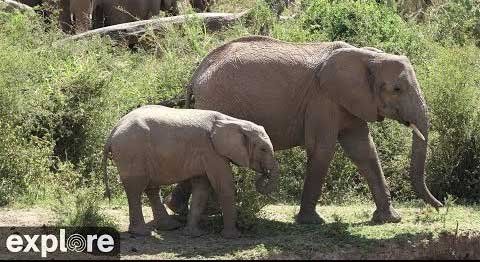 This live cam provides another view of the watering hole and river at Mpala Research Centre in central Kenya. Watch as animals come to drink and swim, and keep an eye on the acadia trees lining the riverbank–they are home to vervet monkeys, olive baboons, and many birds.
Where in Africa is this camera located?
This live animal cam is in central Kenya's Laikipia County, within the boundaries of the Mpala Research Centre. Mpala's 48,000 acres are home to cattle ranches, wild lands, and an international research hub, where scientists come from all over the world do study Africa's animals.
This camera at Mpala pans about 120 degrees, showing the watering hole (also known as the hippo pool), the fever trees alongside it and slightly upriver to Basking Beach. For more views of the same area, check out Explore's other animal cams like our safari cam or the ones posted at the watering hole or river.
What kinds of animals visit the watering hole?
Elephants, Grevy's zebras, giraffes, and kudus are just a few of the many African animals that come to drink from the water's edge. Vervet monkeys and olive baboons sleep in the acacia trees lining the river bank, and many birds–like the rare African finfoot and the fierce African fish eagle–keep watch from the trees, while leopards and Nile crocodiles look on from down below.
Learn More About Explore.org
EXPLORE is the largest live nature cam network on the planet. Their goal is bring nature to you, raw, unscripted, and unedited. Enjoy the natural world as it unfolds in real time in front of our cameras. EXPLORE.org takes you from Kenya, Africa to the riverbanks of Katmai, Alaska and everywhere in between.

Mindful Living Network is proud to feature many of EXPLORE's amazing cams here on our site. You can check out all of EXPLORE's live cams and highlight reels on this section of their website. EXPLORE's mission is to champion the selfless acts of others, create a portal into the soul of humanity and inspire lifelong learning. That sounds pretty good to us! If you'd like, you can learn more about EXPLORE on their website, www.explore.org