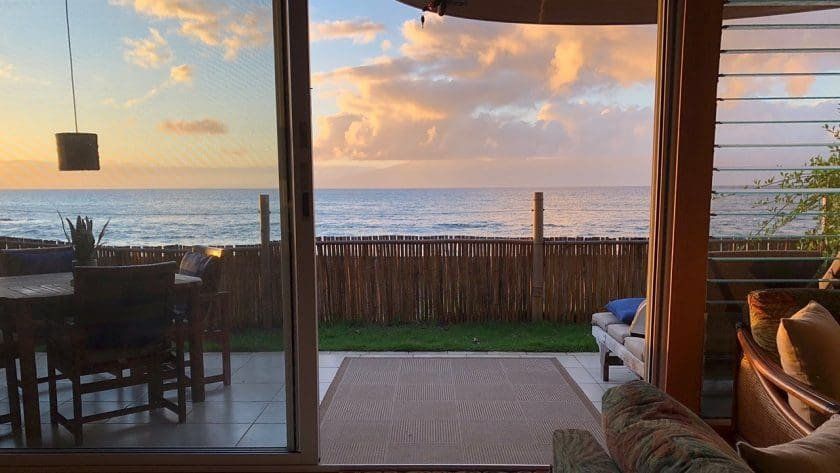 Check out the amazing live webcam feed from the Hawaiian Islands Humpback Whale Marine Sanctuary off the island of Maui. The Sanctuary, which spans all the way to the mysterious island of Molokai and Lanai in the distance, is the birthing and mating grounds of the North Pacific Humpback Whale population. They can be seen breaching, fin, and tail slapping in large numbers here from December to April.
This live feed rotates from the north (tiny Mokuho'Oniki Island and Kahana, Maui), west (Island of Molokai) to the south (Island of Lanai) Just in front is the Kahekili Marine Reserve – one of only three conservation zones on Maui and a popular spot for watching green sea turtles feed on seaweed.
You can spot the occasional pod of dolphins or a rare sighting of the critically endangered Hawaiian Monk Seal. Morning rainbows are common and the sunsets in the evening are spectacular.
Help Save the Whales!
The researchers at the Hawaiian Islands Humpback Whale Marine Sanctuary at NOAA have asked for help in spotting Humpback Whales. Specifically, they want viewers to report anything unusual with the Humpbacks such as vessel strikes, entanglements, etc. So, if you spot a humpback and more importantly see one in distress, please make note of the day and time (time on the bottom left of the video) and email the details to whalesighting@mauisands.com, who will forward your report right away to the Maui Island coordinator at NOAA.
If you lived here, you'd be home already
On a side note, this is the exact view that guests of Maui Sands Unit 4B experience right from the ground floor. Maui Sands is one of the original condo resorts in all of West Maui and it has retained a lot of the old Hawaii vintage feel of the '60s before the hotel boom. Unit 4B is even a carbon-neutral, eco-friendly, and fully-equipped condo! So if you would like to experience this view in person, visit https://www.mauisands.com to find out more.
Video stream by AfarTV
Best Times to Watch
This cam is live 24 hours so the scenic view is always available.