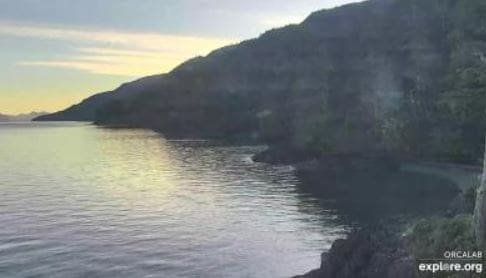 Rubbing Beach is no ordinary beach! Watch from above as orcas swim close to the shore in order to rub their bellies along the beach's smooth pebbles – a behavior unique to the orcas in British Columbia's Johnstone Strait.
Best Times to Watch
This cam is live 24 hours so the scenic view is always available. Seeing an orca on cam is going to be easier between the months of June to August. This is also a great spot to watch a breathtaking sunset any day of the year!
Why do orcas rub against the beach?
Beach rubbing, or the phenomenon of orcas brushing their bellies along the sea floor here in the shallows is thought to be a social and cultural behavior unique to the orcas here! Researchers have suggested that this collective behavior might solidify or strengthen family bonds. Another explanation is that rubbing against the smooth stones just feels good!
OrcaLab
In 1970, Dr. Paul Spong founded OrcaLab, a small land based whale research station. It is nestled against the evergreen forest of Hanson Island in the waters of the "Inside Passage" of northern Vancouver Island in British Columbia, Canada. OrcaLab research is land based as a matter of philosophy… research without interference. The approach works well in their area, with its many waterways & relatively small distances. OrcaLab's location on Hanson Island at Blackney Pass is also perfect for reception of radio signals from Johnstone Strait & Blackfish Sound, two of the most important areas used by the whales. Want to learn more? Check out their website.
Learn More About Explore.org
EXPLORE is the largest live nature cam network on the planet. Their goal is bring nature to you, raw, unscripted, and unedited. Enjoy the natural world as it unfolds in real time in front of our cameras. EXPLORE.org takes you from Kenya, Africa to the riverbanks of Katmai, Alaska and everywhere in between.

Mindful Living Network is proud to feature many of EXPLORE's amazing cams here on our site. You can check out all of EXPLORE's live cams and highlight reels on this section of their website. EXPLORE's mission is to champion the selfless acts of others, create a portal into the soul of humanity and inspire lifelong learning. That sounds pretty good to us! If you'd like, you can learn more about EXPLORE on their website, www.explore.org