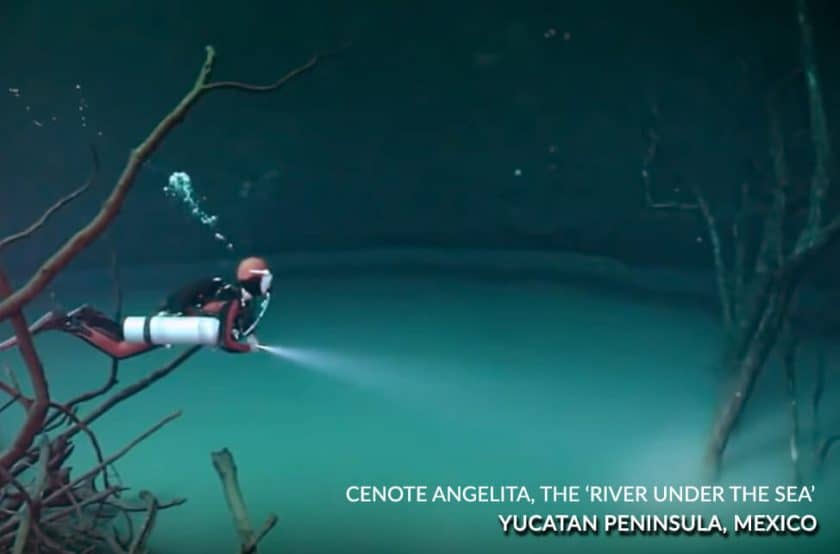 Have you ever heard of a river under the sea? There's a secret underwater river called Cenote Angelita (Spanish for Little Angel) located in the Yucatan Peninsula in Mexico, but it is more famously known as the "River in the Sea".
Cenote Angelita, 'River under the Sea'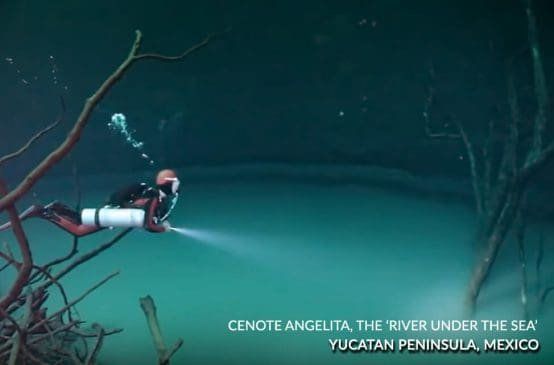 The river can be found after a 10 to 15 minute drive south of Tulum. It is arguably the most unique formation of this kind as you can see from the photo on this page (and by watching the unbelievable video). A thin layer of hydrogen sulfate separates the saltwater from the fresh water above it. As a result, this creates the illusion of a regular river. Fallen trees appear on both sides of the "shores", which makes this river appear even more surreal!
The 'River in the Sea' flows as much as 115 feet deep at some places. It has a flow of both fresh water and salty water at varying depths. Besides this single undersea river, there are other instances of rivers under water all over the world. For example, Dr. Dan Parson of University of Leed and his team discovered one at the bottom of the Black Sea.
What is a river under the sea?
Scientifically speaking, a 'cenotes' is a term for a deep, natural pit (or a sinkhole). These cenotes are a characteristic of Mexico. They occur due to the collapsing of limestone bedrock which as a result exposes groundwater underneath it. This is what creates the natural phenomenon that appears to be a river under the sea.
In fact, the Yucatan Peninsula boasts nearly 7,000 cenotes. Early inhabitants of the Yucatán Peninsula, the Mayans, found these beautiful sinkholes and gave them their name. Cenotes comes from the Maya word for "well". For the Maya, the cenotes were holy sites and portals to other worlds. Gold and jade sacrifices have been dredged from these sinkholes.
If you want to see more, this article on the Ripley's Believe it or Not website has a great photo gallery of this river under the sea.
If you'd like to see more videos of amazing places around the world to visit, click here.