Join Chef Kendrick Dopp on our new show Cooking for Love featured on the Mindful Living Network. Try this simple and tasty pecan brittle recipe.
You'll need: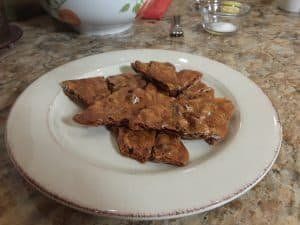 1 ¼ cup chopped pecans

        

1 cup white sugar

      

1/2 cup light corn syrup

            

1/8 teaspoon salt
1 Tbsp. butter
1 tsp. baking soda
1 tsp. vanilla extract
Directions:
Butter a baking sheet.
Combine sugar, corn syrup, and salt in a glass 4-cup measuring cup.
Heat in microwave for 3

 

minutes;

 

Stir in pecans and cook for 3 more minutes.
Add butter and vanilla extract into pecan mixture ;

 

and heat for 1 more minute. …

 

Add baking soda and stir until foamy. 

 

Pour bubbling pecan mixture onto the prepared baking sheet.

  

Shake to spread the mixture out.

  

It solidifies fast!
Let cool for 20 minutes.

  

Once cool, break into pieces for serving. 

 
Recipe makes 8-10 servings.