Who doesn't want to workout and save the planet at the same time? Earlier this week we featured a few Mindful ideas on eco-workout apparel. Today, we take a closer look at eco-friendly workout gear equipment. If you need some inspiration to help you get started, check out some of the suggestions listed below.
Eco-Friendly Workout Gear You'll Love 
Sustainable or
Re purposed

 Gym Bags

When you head to a gym you'll need a bag to keep all of your stuff in. Fortunately, there are tons of sustainable gym bags you can try. For instance, you can buy a plain bag made from 100 percent hemp, like this one from Fabletics. Hemp is a sustainable fabric because the plant requires less energy, fertilizer, pesticides, and water than similar crops.

Looking for something a little hipper than a plain duffle bag? Check out companies that repurpose materials into one-of-a-kind bags. One example is Rareform, a company that repurposes vinyl billboards into unique duffle bags—it's a great use for a material that would otherwise be thrown away. The bags are "water resistant, versatile, and durable."
Cork Yoga Mats
If you're looking for a yoga mat made from a unique, eco-friendly material, you can't go wrong with cork.
Cork is a sustainable product harvested from the bark of cork oak trees. And because the bark can regenerate, the trees do not have to be cut down when the bark is stripped, which is great for our planet. Cork is also very versatile. It is used for practically everything from kitchen flooring to, believe it or not, yoga mats.
A company called Yoloha makes cork yoga mats. These mats come in creative designs with images of flowers, chakras, and geometric shapes, and there are various types including travel sizes. You can also have a mat personalized with your own words. Aren't sure what type of mat you want to use for your next workout? There's a yoga mat sample pack you can try. Check out Yoloha for more information about these cork yoga mats.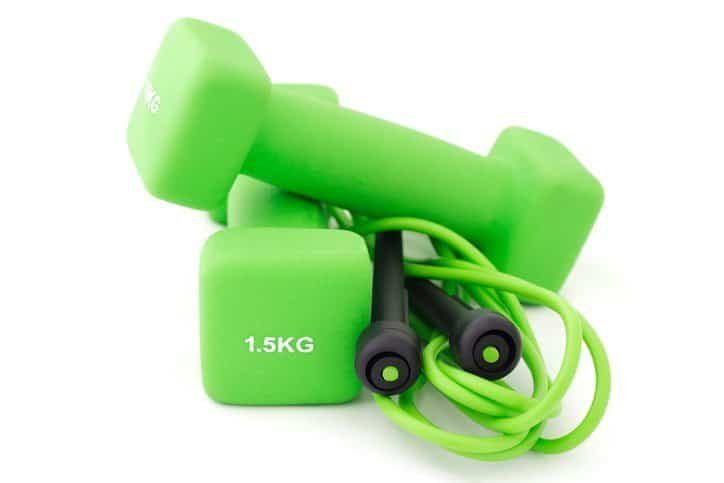 Used and Eco-Friendly Weights
Do you plan on lifting weights at home? If so, you're going to need some gym equipment like dumbbells and, believe it or not, there are "green options."
Buying preowned gym equipment is one of your eco-conscious options. It will keep the unwanted hardware from being dumped in a landfill. It's also a budget-friendly option since you'll be able to buy some great gear at a discount. You can find preowned gym equipment on websites like eBay or Craigslist. You can also try contacting gyms in your local area to see if they are selling off some of their old equipment.
Another option you can try is buying gym equipment that is made from eco-friendly materials. For instance, there are some weights that are made from "green" materials such as eco-friendly rubber. There are also some dumbbells that are made from 100 percent recycled metals.
These are just a few ideas to help you get started. Whether you do Pilates to get tone or weightlifting to get buff, just doing a little research can help you find eco-fitness gear for your next workout routine.
Bonus. Are you planning to workout from home? Need some ideas for your home gym? We've got you covered! Here are five Mindful home gym ideas you'll love—like creating your own cooldown station!