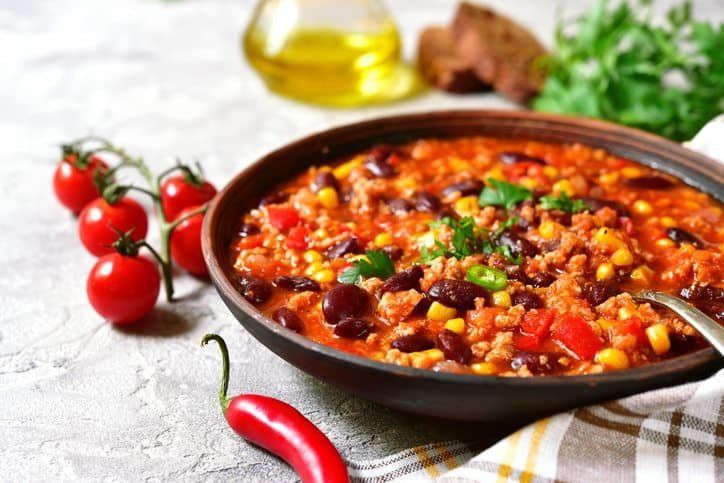 Crockpots are an easy way to prepare healthy meals for the whole family. If you're in the need of a fun recipe to use for your crockpot, try this enchilada-inspired chili. It's delicious and your family will enjoy TexMex chili night.
This creative recipe is a unique take on a traditional enchilada and it features some of the classic ingredients: black beans, chili beans, corn, tomatoes, and, of course, enchilada sauce. The black beans bring protein, iron, and fiber to the meal. While the corn and tomatoes, add vitamin C, vitamin A, and vitamin K to the pot. All these ingredients combine with the chicken to create a protein-packed dinner that will keep your family full all night long.
Hungry yet? Check out Chelsea's Messy Apron's chicken enchilada chili listed below.
Chicken Enchilada Chili
(Recipe from Chelsea's Messy Apron)
 Ingredients
10 ounces of red enchilada sauce
14.5 ounces of diced tomatoes with green chilis
15 ounces of chili beans in mild chili sauce
15 ounces of black beans, drained and rinsed
15 ounces of corn
2 or 3 large, boneless skinless chicken breasts*
2 cups of chicken stock or broth*
8 ounces cream cheese, very soft
1/2 teaspoon of ground cumin
3/4 teaspoon of paprika
1 teaspoon of seasoned salt
1/4 teaspoon of pepper
1 and 1/2 of tablespoons of chili powder
Directions
In a large crockpot, add in the enchilada sauce, undrained tomatoes, undrained chili beans, drained and rinsed black beans, drained corn, and uncooked chicken breasts cut into large chunks.
Add the chicken stock and all of the seasonings. Stir well.
Cover and place on high for three to five hours or low for five to eight hours. The meal is ready once the chicken can easily be shredded.
Remove the chicken from the crockpot and shred in another bowl using two forks.
Meanwhile, cube the cream cheese into small cubes and put them in the crockpot. The cheese should be very softened, so melt in the microwave if necessary. Stir well and cover. Change temperature to high. Let it sit for a few minutes and then using a large whisk, briskly whisk the cream cheese to melt.
Add the shredded chicken back into the crockpot. Stir and cover. Cook on high until all the cream cheese is completely melted. Stir and serve.
*Vegetarian Option
You can omit the chicken entirely and use vegetable stock to create a vegetarian enchilada chili.
Bonus: Serving Choices
When it comes to this chili, there are so many serving choices. Crackers or croutons always make delicious toppings, but if you have some extra time you can make some cornbread to serve with your chili. Or pop some tater tots into the oven—the kids will love them.
For traditional enchilada toppings, try cheddar cheese, cilantro, and fresh lime. Sour cream and avocado would also be yummy.