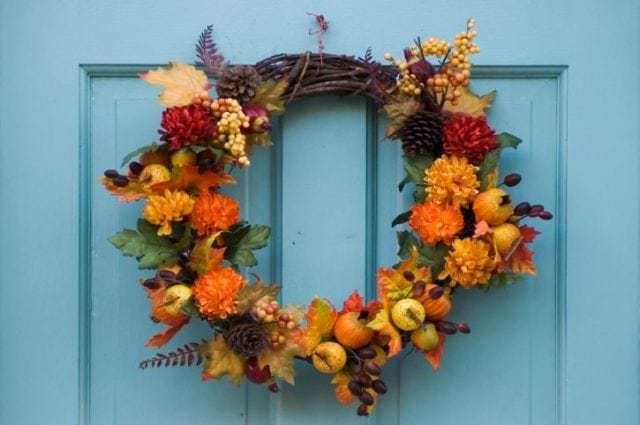 The fall season can inspire a multitude of enriched decorative themes within our homes, but that shouldn't be the limit. You can decorate your outdoor living space to reflect the spirit of autumn and all the upcoming holidays coming up for the year by following our fall décor for outdoor tips.
Here are some tips on fall décor for outdoor spaces:
Pumpkin Planters
Need a fall inspired container for your porch or garden? A pumpkin can be a perfect fall feature. You can hollow out a pumpkin, cut drain holes into the bottom of the pumpkin and fill it with potting soil and fall flowers. You can find directions on Better Homes and Gardens for fall décor for outdoor (BHG).
Cornhusk Garland
Want to give your dull wooden fences a little life or add decorations to porch railings? Consider corn garlands. When setting up he porch you can use different varieties of shucked corn and cornhusk. You can tie that to rope using hooks inserted in the corn core or glue or for more ideas check on (BHG).
Hanging Gourds
Have an archway in your garden or a gazebo? Consider making organic garland with rough twine and miniature gourds like mini squashes, cucumbers or pumpkins. Just drill holes in the mini gourds and thread the twine through with a needle. The instructions are on Martha Stewart website.
Autumn Doormats
You'll need the right welcome mat for your front door. It not only keeps dead leaves and other debris out your home it also adds a decorative element to your exterior. Try doormats with leaves, scarecrow and pumpkin decorative designs.
Fall Door and Window Dressings
Want to add a little embellishment for your windows? Consider taking a few fallen, but beautiful leaves from your yard and hanging them in your window with fishing line and painters tape. It's quite simple and it'll add better curb appeal. For the front door consider a wreath or cornucopia filled with flowers and leaves, you can find instructions here.
Tree Decorations
Christmas trees aren't the only foliage that can use a few ornaments. Creating a few bird feeders with the kids is not only great for our feathered friends they also look great hanging from trees. You can make organic feeders with pinecones, peanut butter and bird seed. And you can find helpful instructions here and here.