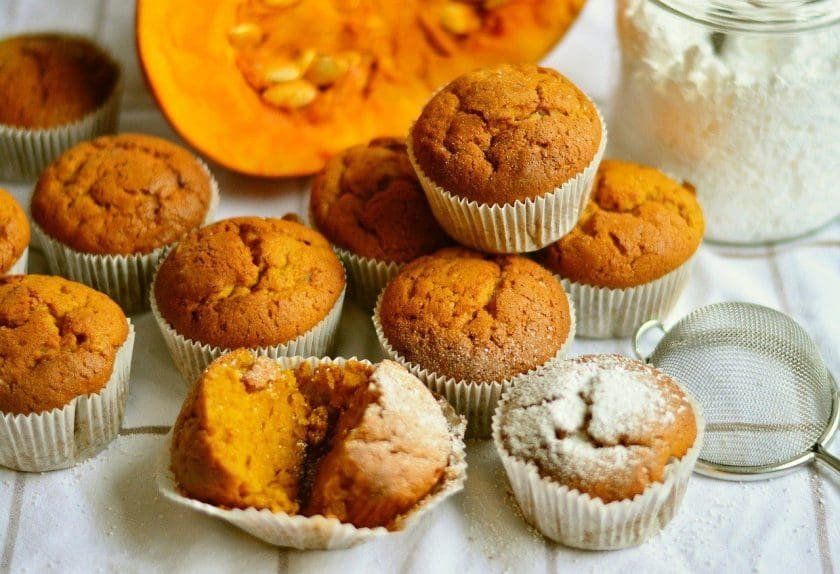 Nothing says Halloween like the pumpkin flavored goodies. Fortunately, making your own is rather easy to do. If you are in the mood for delicious pumpkin muffins, try this yummy recipe.
Want to include more pumpkin in your diet? It's a great idea. Pumpkin is an excellent source of the powerful antioxidant beta-carotene. Research shows that people who eat a diet rich in beta-carotene are less likely to develop cervical and breast cancers. Pumpkin is also full of vitamin A, vitamin C, and potassium. Compounds in pumpkins can protect people from lung cancer, heart disease, arthritis, and type-two diabetes. The fiber in pumpkins can also help with your digestive system.
These pumpkin muffins are so moist and delicious it is hard to stop at one. They are also great for breakfast or a delicious, nutritious office snack.
Listed below is the recipe for yummy Pumpkin Muffins
Ingredients
3 cups all-purpose flour
1 tablespoon plus 2 teaspoons pumpkin pie spice (you can substitute the pumpkin pie spice with the cinnamon)
2 teaspoons baking soda
1 1/2 teaspoons salt
3 cups brown sugar
1 can (15 ounces) pumpkin puree (you can substitute the pumpkin with 2 cups of sweet potato puree if you so desire)
4 large eggs
1/2 cup vegetable oil
1/2 cup water or orange juice
Optional: cream cheese icing and fall colored sprinkles
Directions
Preheat oven to 350 degrees Fahrenheit. Paper line or grease muffin cups with baking spray.
Combine flour, pumpkin pie spice, baking soda and salt in a large bowl.
In another large bowl, mix sugar, pumpkin puree (or sweet potato puree), eggs, vegetable oil, and the water or orange juice.
Add the flour mixture into the pumpkin puree mixture.
Spoon batter into the muffin cups, filling them 3/4 full.
Bake for 25-30 minutes or until golden brown. Cool on wire racks for 10 minutes.
Garnish with cream cheese icing and fall colored sprinkles.
Bonus: Serving Options. There are many different ways for you to serve your muffins. Warm, seasonal tea or coffee would be delicious with these pumpkin muffins. Chocolate also tastes delicious with pumpkin. So, you can serve the muffins with hot chocolate and mini marshmallows. For a full morning meal, consider eating the muffin with yogurt mixed with nuts (almonds and walnuts) and dried cranberries.