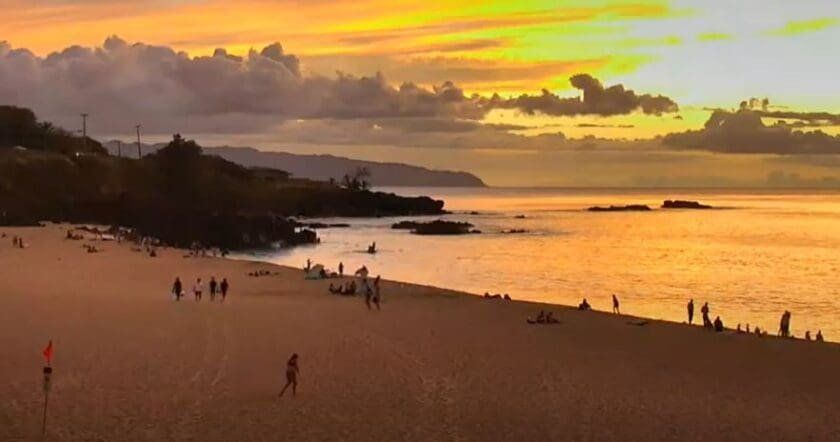 This live cam overlooks Waimea Bay on the north shore of Oahu. Considered the birthplace of big wave surfing, Waimea Bay is home to legendary waves and stunning sunsets.

In Hawaiian, Waimea means reddish or sacred water; the perfect name for this surf haven on Oahu's North Shore. Long before its massive waves drew surfers from around the world, Waimea was a sacred area for native Hawaiians. Women chiefs were brought to Waimea to deliver their babies, and a sacred burial site lies in the neighboring Waimea Valley.
At one point, the waters here may have appeared red, due to the red silt that once flowed freely out of the mouth of the Waimea River. If you're watching the Waimea surf cam after a heavy rain, you might get to see the river break through the sand bank and connect with the bay!
What makes Waimea Bay unique?
The bay is known for its massive waves, which roll in after huge storms in the North Pacific. With no natural obstacles in the way to cull them, these waves slam into the islands with full force. For years, surfers would drive past Waimea Bay on the way to Sunset Beach, another popular surfing spot, before anyone attempted to surf Waimea's towering swells.