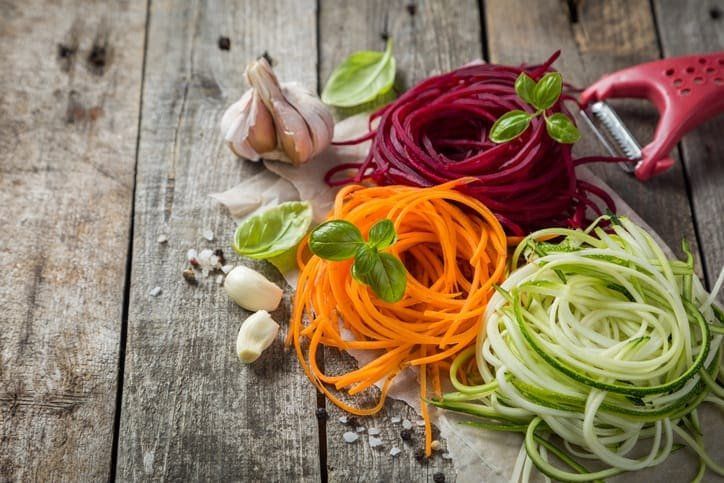 From Italy to China, noodles play an important part in a variety of cuisines. You can keep eating your favorites with a healthier version of noodles: veggie noodles. They're not only delicious—they're also the perfect choice for vegans. You can buy veggie noodles in some specialty stores, but most people make their own using a vegetable spiralizer. This kitchen gadget will shred vegetables into noodle-like spirals. You can use an old fashion vegetable peeler to make noodles as well—though it can take longer and the finished product won't have the traditional noodle shape. Once you have the right gadget you'll be ready to go.
Listed below are a few yummy recipes for vegetable noodles.
Lemon garlic zucchini noodles
 This recipe from Kirbie Cravings is not only refreshing it's also nutritious. Zucchini is a good source of vitamin C and B6. To make this recipe, you'll simply need zucchini, garlic, olive oil, lemon, and parsley.
Sesame sweet potato noodles
 Sweet potatoes are full of vitamin A, vitamin C, vitamin B6, manganese, potassium, and other nutrients that your body needs. So, if you are looking for healthy noodles with a more Asian flavor, than this recipe from the Organic Dietitian maybe just what you need. For this recipe, sweet potato noodles are served with a sauce made of tahini paste, toasted sesame oil, apple cider vinegar, honey (or maple syrup), red pepper flakes and salt. The meal is then topped with green onion and sesame seeds.
Butternut squash noodles with cauliflower Alfredo
Want a meal that is slightly more Italian? Try this recipe from Tablespoon. The butternut squash noodles (packed with vitamin A, vitamin C, and manganese) are topped with a special Alfredo sauce made with cauliflower, yellow onion, garlic, chicken broth, milk, and Parmesan cheese, among other ingredients.
Carrot ribbons with rosemary butter
 This recipe is simple, but it makes for a great side dish. All that's required is carrot noodles, butter, rosemary, and parsley. The carrots in the dish will do your body good. The carrots are a very good source of vitamin A, vitamin K, vitamin C, and potassium.