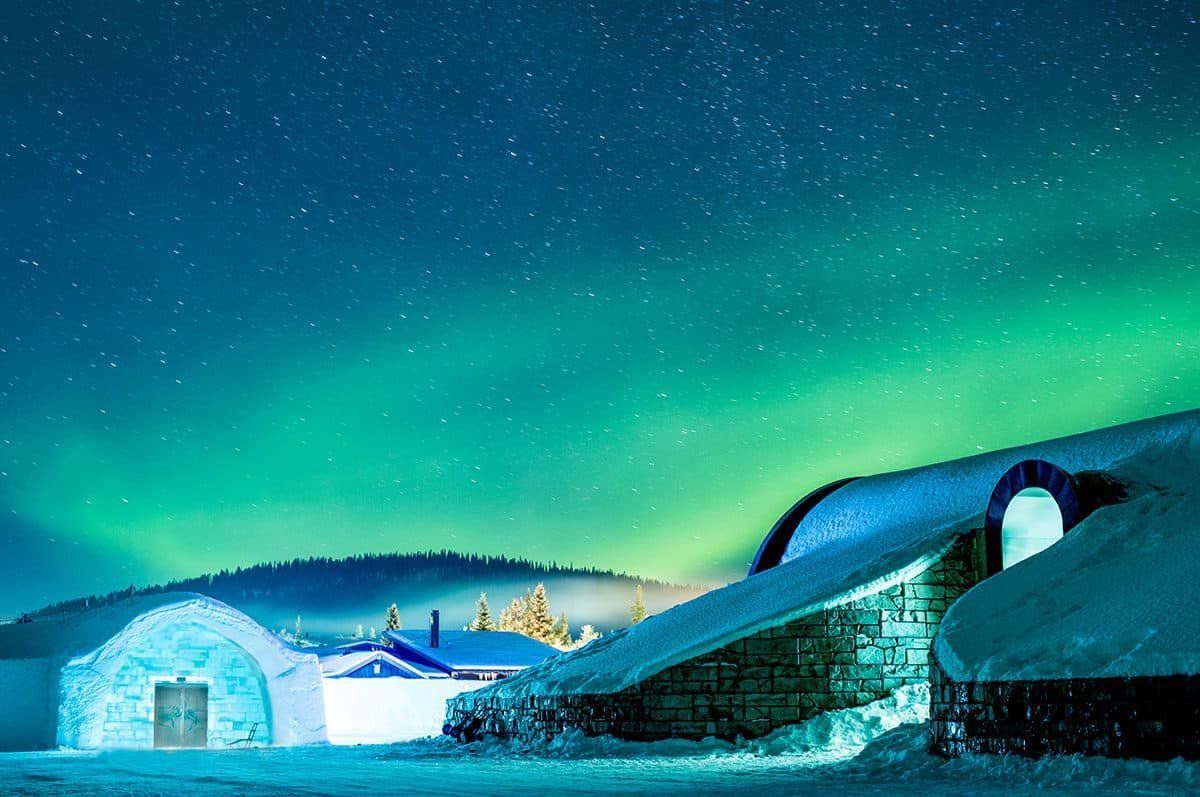 Here's a hotel stay that you'll never forget! Located in a Sweden, ICEHOTEL is a world famous hotel and an art exhibition made of ice and snow. Founded in 1989, it is reborn in a new guise every winter, in the Swedish village of Jukkasjärvi – 200 km north of the Arctic Circle. You can check out their website here.
Hotel Information:
ICEHOTEL has around 150 warm and cold beds respectively. In addition, the complex includes ice church, ice bar, ice sculpting studio and pillar hall. The hotel also includes two heated restaurants, lounge, four meeting rooms and two wilderness camps. The suites in ICEHOTEL are designed and crafted by artists from all over the world. Since its' inception, ICEHOTEL has had works of 546 artists.
They even have a luxury version! ICEHOTEL 365 is a permanent structure that includes luxury suites, each with private relax and bathroom, and art suites, all sculptured by selected artists. As well as a large ice bar that serves champagne, and an ice gallery. This ice experience can be visited year-round and is cooled by solar panels during the summer months.
If you stay, you can choose either a "cold room" or a "warm room". To give you an idea of prices, rates for the cheapest 'cold' doubles at the original ICEHOTEL – known as 'ice rooms' – start at around 4,000 SEK per night (that's around $418 US dollars). But keep in mind that they also offer tours, so you don't necessarily have to stay in the ICEHOTEL to see it.
What is it like staying there?
ICEHOTEL offers cold sleeping 365 days of the year, so timing is down to which season that appeals to you the most. Visiting during December through February is an Arctic winter adventure at its most intense, with extreme temperatures and short daylight hours. March, April and early May is Arctic spring with long and often sunny days, and mild temperatures ranging between -10 C (14 F) and 10 C (50 F). Our summer is short and mild, but with near constant daylight hours thanks to the midnight sun. The northern lights season and golden autumn starts in September, as days begin to get shorter.
Things to keep in mind when visiting:
A good tip is to go in January, March, or April, when the hotel tends to be less busy.
Between 10 am and 6 pm, Icehotel is open to the public. Day visitors and guests have access to see all the rooms (except Deluxe Suites) and join a guided tour.
The beds in the cold rooms have a bed frame made of ice. It is a slatted bed base with mattress, reindeer skins and pillows.
There are no bathrooms (except the Deluxe Suites) or storage in the cold rooms. These facilities are housed in a heated service building, the Riverside Lobby, where you also keep your belongings during the cold night. The service desk is staffed 24 hours.
The changing rooms, sauna and showers are communal for women and men respectively.
There are no electric sockets to charge your phone inside the cold room, so patrons are advised to charge their phones before going to bed.