Are you in the mood for love? Sometimes the right person is just one cubicle away. Before getting involved in an office romance it's important that you weigh the pros and cons. It is no surprise that office romances are very common in America. You typically spend one-third of your life at work sharing experiences with your coworkers, so if you're looking for a romantic partner you can relate to it makes sense to date someone from your job. A Harris/CareerBuilder poll found that 38 percent of American workers have dated someone who worked for the same company.
A Few Pros and Cons of Office Romance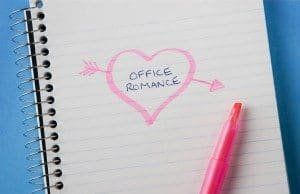 While workplace couples are common, office politics can still have a big impact on a workplace couples. One study published in the Western Journal of Communication found that other employees "feel less solidarity and trust and were more likely to engage in information manipulation with a peer [who was] dating a superior." Being left out of the loop at work can create a difficult work environment, especially for the subordinate employee in the pair. However, even if office politics do get in the way, workplace romances can still work.
One positive aspect about dating someone from the office is that it's a safer place to meet a potential mate. Meeting someone online or at a bar takes a leap of faith because you don't really know the other person very well. With an office romance, there are more opportunities for you to get to know the other person on a friendly level—a happy hour after work, late night crunch sessions at the office, or shared lunches. The biggest pro about office romances is that it can sometimes lead to a happily ever after. In the previously mentioned poll, 31 percent of office romances ended in marriage.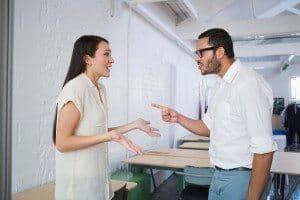 Unfortunately, office romances aren't always a bed of roses. For every Jim Halpert and Pam Beesley there's a Sam Malone and Diane Chambers, a couple that just wasn't meant to be together, and that 's when things can get awkward. It seems appropriate to spend some time apart after a breakup, but with an office romance, this isn't always possible. You have to see this person every day, which can make it difficult for the former couple to move on. Workplace romances can also leave a trail of heartbreak in its wake.
If you're interested in starting an office romance be sure to mindfully reflect on your situation before diving in. Also, have an honest conversation with the other person about what you're looking for in terms of your relationship. A solid foundation is important for workplace love.