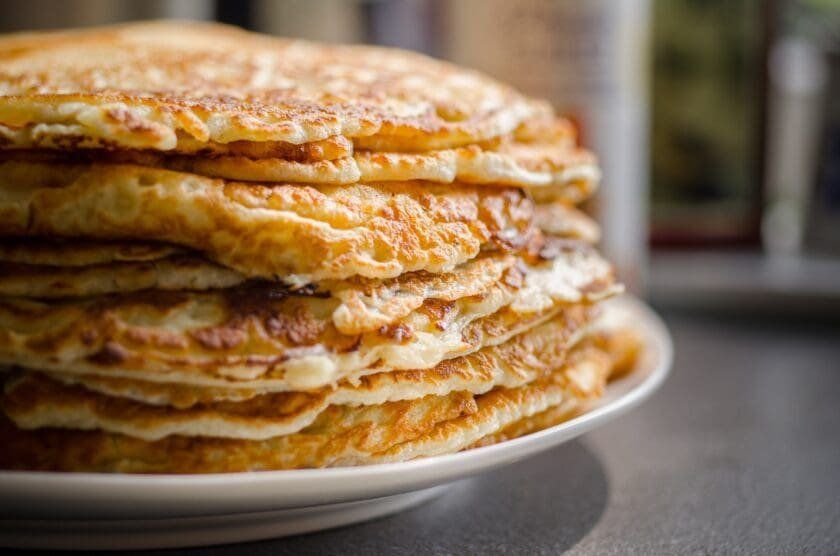 What do you eat on Mardi Gras (Fat Tuesday-Shrove Tuesday)?
Fat Tuesday, or Mardi Gras Day, is a chance to indulge—before the start of Lent on Ash Wednesday. … The tradition dates back to 600 A.D. ,when all animal products, not just meat, were banned during Lent. Christians made pancakes on Fat Tuesday to use up their supply of butter, milk, and eggs before Lent.
Pumpkin is a superfood. A delicious pumpkin pancake for breakfast starts your day with a nutritional boost!
Pumpkin can lower your blood pressure and cholesterol, reduce your risk of chronic diseases and cancer, and give you an immune boost. What's not to love about pumpkin?
These easy pumpkin pancakes are light, fluffy and so easy to make using canned pumpkin and a box of pancake mix. It's a delicious breakfast recipe that's perfect for a cold winter day!
Yummy & Easy Mardi Gras Pumpkin Pancake Mix Recipe
INGREDIENTS
1 1/2 cup pancake mix
1 cup milk
1/2 cup water
1/2 cup canned pumpkin
1 teaspoon ground cinnamon
1/2 teaspoon ground nutmeg
1/2 teaspoon ground ginger
Butter & maple syrup for serving
INSTRUCTIONS
In a mixing bowl, combine all ingredients.
Heat a non-stick skillet to medium heat. Using a 1/4 cup scoop, pour batter on to skillet. Once you start to see little bubbles form, flip and continue to cook until pancake is browned on each side. Continue until you have used all pancake batter.
Serve pancakes with butter and maple syrup!
Makes 8 pancakes