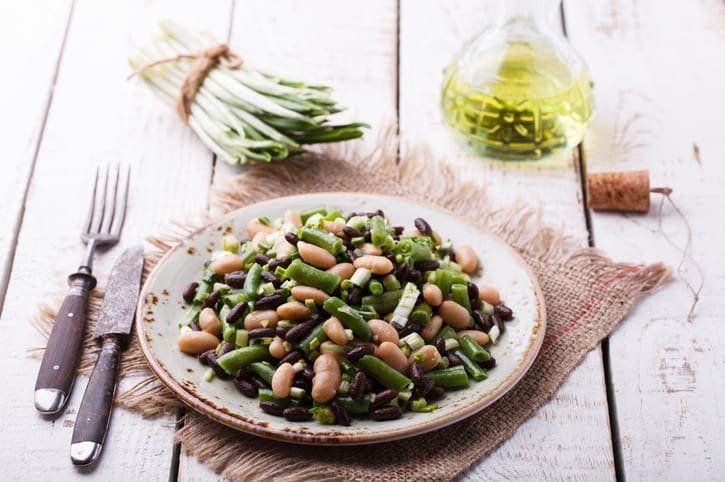 Our Family's Treasured Recipe
Try this delightful, light bean salad with your grilled food throughout the Spring and Summer. Our family has enjoyed this for almost 40 years. This is one of my mother-in-law's best recipes that we all love. Jim's mother is gone now but we continue to relish this divine bean salad every year.
This Recipe is Packed With Nutrition
This salad is full of black beans, a great vegetable that is loaded with nutrients. In addition to also ranking among the antioxidant bean superstars, black beans are the top bean source of magnesium. Magnesium is a mineral lacking in the diets of 64% of men and 67% of women. This is unfortunate because magnesium helps with several conditions including the risk of colon cancer, diabetes, and high blood pressure, and in women, even PMS.
Black beans aren't the only healthy nutrient in this salad. Green beans are full vitamin C, a powerful antioxidant that is great for repairing skin from the damage of the spring and summer sun. Green beans are rich in manganese which can help keep bones strong and help heal any sprains or muscle strains you may get from spring outdoor activities. The fiber content found in green beans can also help which can help with constipation. This delicious salad also has nutrition rich celery, which is rich in vitamin K, a nutrient that helps regulate your blood. The celery even adds a yummy crunch to your salad.
Creating This Yummy Dish  
Ingredients
2 Cans of French Green Beans (drained)
1 Can of Black Beans (rinse and drained)
2 Celery Stalks (stems)
2 Medium Onions (sliced in rings)
Dressing
½ Cup Red Wine Vinegar with garlic cloves or powder
½ Cup Vegetable Oil
¾ Cup Sugar
Juice of 2 Big Lemons
1 Tsp. Garlic Salt
2 Tsp. Salt
1 Tbsp. Worcestershire Sauce
1 Tsp. Prepared Mustard
First, heat dressing enough to melt the sugar. Then let it cool. Pour the cooled mixture over the beans and vegetables and let it sit in the fridge for 24 hours. This delicious salad will last for over a week — if it's not completely eaten all at once.