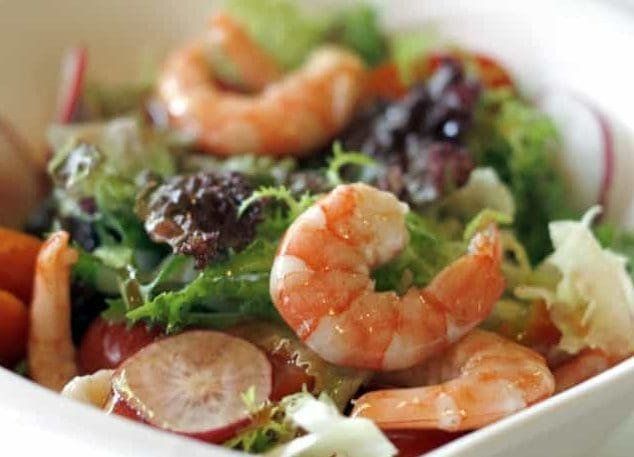 A Great Summer Light Salad
This yummy spicy salad will make mouths water and your guests and family very happy. You are serving a great meal filled with nutrition and beauty. Poblano peppers fight cancer and promote weight loss. That spicy taste you get when eating hot peppers like the poblano pepper can help you fight cancer, aid weight loss, and boost your immune system. Poblano peppers reduce chronic inflammation in your body which is the driver of most diseases. They also help give you powerful pain relief.
Avocados offer nearly 20 vitamins and minerals in every serving, including potassium helps control blood pressure, lutein is good for your eyes, and folate is crucial for cell repair. Avocados protect you against disease and infection.
Ingredients
2 medium shallots
3 poblano peppers
1 tbsp. canola oil
2 tsp. chili powder
4 radishes
1 lime
1 avocado
1 lb. large shelled, deveined shrimp
1 5-ounce container mixed greens
Directions
Heat oven to 450°F. Slice 2 medium shallots. Remove the seeds from 3 poblano peppers, then slice.
On baking sheet, toss shallots and poblano peppers with 1 tablespoon canola oil and 2 teaspoons chili powder. Roast for 20 minutes.
Slice 4 radishes and thinly slice 1 avocado. Set aside. From one lime, squeeze 3 tablespoons juice and set aside.
Once peppers have been in the oven for 20 minutes, add 1 pound large shelled, deveined shrimp to the baking sheet. Return to oven and roast for 5 minutes. Cool slightly.
When ready to serve, combine the shrimp mixture with the sliced radishes, lime juice, 1/2 teaspoon salt and one 5-ounce container of mixed greens. Add the sliced avocado on top.
We would like to thank Good Housekeeping for this hot and delicious recipe.